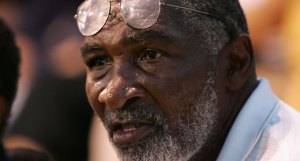 There's probably only one person in the world who wasn't impressed with Venus Williams thoroughly swift dispatch of Ana Ivanovic. Her dad.
"I don't think she played that great today," said Richard Williams. "The second serve wasn't doing anything. Venus wasn't turning. She wasn't meeting the serve return. She hit too many serves out."
But Mr. Williams, she won 6-4, 6-2 against the no. 4 player in the world.
"Sometimes tennis scores doesn't reflect how a person plays. In my opinion, Venus played bad."
What was the difference then?
"[Ivanovic] outplayed Venus, she just didn't play the key points well,"
He had kind things to say about Ana.
"Keep in mind, she's 19", he said. "She got to the finals of the French. She probably needs a little more experience because she hits well, she plays well, she's not moving that bad. She played a lot better than Venus."
Perhaps it's a motivation technique, maybe it's something we're all missing, but what will it take for the quarterfinals-bound Venus to play better?
"If Venus wants to win this tournament she'll not only have to play key points well, she'll have to play the other points better."