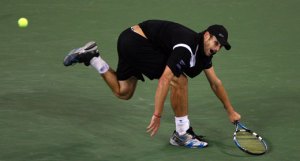 Roger Federer once again proved himself unstoppable, but Andy Roddick played incredibly well.
Start with these total stats for both players:
Winners: 90
Unforced: 42
Doubles: 0
"It was great tennis," said Federer.
"I didn't make mistakes," said Roddick. "If he hits a 140, hits the back of the line, you know, whatever."
It was that kind of night for Roddick. There was nothing he could do other than play his absolute best and then consider the persisting gap between himself and the greatest player ever.