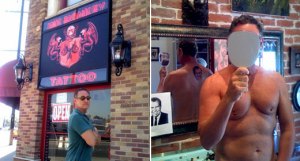 What is it, exactly, with Roger Stone and Richard Nixon?
The GOP strategist, who worked for the state Senate Republicans until shortly after his Manhattan phone number was found to be the source of an obscenity-laced phone call on Aug. 6 to Eliot Spitzer's father, originally said that he couldn't have placed the call because was out at the time attending a showing of Frost-Nixon at the theater. After it was reported that the play wasn't actually open that night, Mr. Stone—who got his start in politics as a Nixon trickster working for CREEP—said he was mistaken.
Now, another notable coincidence, with a remarkably similar theme: On the very day he was publicly accused of the phone shenanigans, according to Mr. Stone, he was in California, getting a tattoo on his back of Richard Nixon's face.
Late last night, Mr. Stone's assistant sent me these photographs, which Stone says were taken at The Ink Monkey tattoo shop in Venice Beach, California.
The photos don't really have any bearing on the question of who made the crank call to Spitzer's dad—despite a half-hearted apology for the way in which he framed his alibi, Stone still claims he was framed. But Mr. Stone will be happy to provide evidence, upon request, that he's really the guy in that weird picture on the left and that the tattoo is real.
Does anyone else get the impression that he's enjoying this?