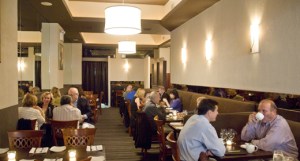 Pamplona is not decorated with toreador posters, hanging hams or even a single photograph of Ernest Hemingway in white pants. But at the bar of this new Spanish restaurant near Park Avenue South, you can order a calimocho, the mixture of red wine and Coca-Cola that traditionally acts as a spur for those who run with the bulls at the festival of San Firmin. Here it's served with a slug of rum as well.
Unlike many restaurants I've been to lately, though, I did not feel from the minute I walked into Pamplona that I too was running with the bulls. It's quite civilized. The murkily lit dining room, lined with brown suede banquettes, is behind a glass panel delicately laced with Pollock-like black threads. Its walls are chocolate brown, with mirrors down one side making the room feel bigger. Up front, the chef himself is slicing a serrano ham at the bar, and people perched on stools are eating tapas: chickpea fries, bacalao croquetas, and skewers threaded with chorizo and shrimp, served on wedges of bread spread with goat cheese.
It's no secret that for the past few years some of the most interesting food has been coming out of Spain. Only last year on these premises, which formerly housed a pizza parlor, chef-owner Alex Ureña opened his eponymously named cutting-edge Spanish restaurant. One of the city's forerunners of alta cucina, Spain's modern cuisine, Ureña had spent six months with Ferran Adriá at El Bullí in Spain. He also ran the kitchen at Bouley for six years, opened Blue Hill with Dan Barber and was executive chef at Suba and Marseille. So it was hardly surprising that his cooking received rave reviews.
But despite his innovative—and fine—food, people were put off by his restaurant's bleak decor, the operating-room lighting and the high prices, which seemed out of place in such a dismal setting. So Ureña closed over the summer, gave the place a makeover and opened as an inexpensive bistro serving classic dishes of northern Spain.
Now the cloths have gone from the tables, which are polished chestnut. The dining room, which is crowded these days, can get quite loud, but not unbearably so. As for the lighting, well, it gives the place a feeling of authenticity. A friend commented that it had the same dim, flat effect that reminded him of many restaurants he'd been to in Spain. A lighting designer could fix it in an afternoon.
When it comes to the food, however, Pamplona's menu is thrilling. I wanted to try every dish. Ureña may not be whipping up foams and gelees these days, but don't for a minute think there's anything dumbed down about his cuisine. There's paella, but it's made with braised rabbit; there's gazpacho, and it's a silky confection swirled with olive oil and topped with shrimp and Spanish roe. There's octopus, the staple of every tapas bar; its thick black sauce is laced with smoked lima beans and chistorra (a smoky, spicy sausage).
When you sit down, your bread is served with a spicy, gazpacho-like red sauce for dipping. While we looked at the menu, we shared an order of dates stuffed with chorizo and wrapped in tosino (a type of bacon), served on toast topped with goat cheese; the saltiness and spice of the wrappings contrast sharply with the sweetness of the dates. Ureña certainly knows how to contrast tastes and textures. Seppie, tender slivers of Italian cuttlefish, are piled up on a plate with frisee, tomato salpicon and black olives; juicy shrimp arrive on a bed of risotto tossed with creamy manchego cheese, surrounded with a chorizo sauce. The bacalao fritters are dull, although the saffron aioli perks them up. My hands-down favorite is the salt-cured tuna, cut in thin yet meaty slices and topped with avruga (herring) caviar and a sopressata aioli.
Ureña's paella is one of the best I've eaten in New York (which may not sound like much, given the dismal versions of the dish I've had). But this paella, served for two, is superb, made with tender pieces of rabbit, spicy chorizo, squid, mussels and shrimp, all perfectly cooked. The rice (for me, always the best part of the dish) is bomba rice, one of the best for making paella since it expands like a concertina, and it too is perfectly cooked, with a slight crustiness underneath on the pan. Also for two, there is cochinillo, a wonderful confit of suckling pig that's milk-white and almost creamy under a paper-thin crust, served with onion marmalade, Swiss chard and a celery-root gratin.
Ureña slow-cooks a chicken breast to bring out the juiciness and serves it on top of leek puree with hen-of-the-woods mushrooms. Confit of bacalao is done the same way as the chicken, but it was a little bland and lukewarm. Seared sea scallops, nicely browned, arrive with apple salpicon and truffle yogurt (I'm not kidding) with morcilla, or blood sausage. So this is bistro food? I don't care what he calls it, it's great.
Desserts are not a high point: too much fried stuff. They include churros with chocolate sauce, gummy chocolate fritters with a yogurt sorbet, and leche frita, squares of citrus fried milk—all perfectly pleasant but forgettable. My advice: Go back to the tapas menu for Spanish cheeses and order a glass of something from the interesting, well-priced Spanish wine list.