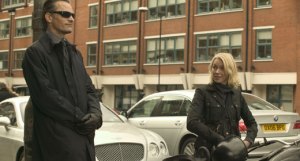 EASTERN PROMISES
Running Time 96 minutes
Directed by David Cronenberg
Written by Steve Knight
Starring Viggo Mortensen, Naomi Watts
David Cronenberg's Eastern Promises, from a screenplay by Steve Knight, is the 64-year-old Mr. Cronenberg's second film with Viggo Mortensen­. The first, A History of Violence, made the top of my ten-best list in 2005, so I was waiting for Eastern Promises with great anticipation. I can't say I was entirely disappointed, but I did find the film less stylistically and viscerally compelling than A History of Violence, and overall more than a bit strange and perplexing. To begin with, most of the characters speak with thick Russian accents, which are not always easy to understand. The print at the screening I attended contained only occasional English subtitles for the heavily accented changes of dialogue between actors, few if any of whom are actually Russian. Fortunately, Naomi Watts, one of the two lead actors, plays Anna Khitrova, the completely assimilated daughter of her late Russian émigré father and English mother, Helen (Sinèad Cusack), and doesn't speak a word of Russian, which actually serves as a plot device in a mostly tortured narrative, literally and figuratively.
Anna works as a night-shift midwife in a North London hospital, where Tatiana, a profusely bleeding 14-year-old rape victim in an advanced stage of pregnancy, is brought. The girl dies, though Anna manages to save the baby with a last-ditch Caesarean section. Among the dead girl's possessions is a personal diary in Russian, which Anna takes to be translated by a distant relative named Semyon (Armin Mueller Stahl). Unbeknownst to Anna at first, Semyon, who on the surface is the genial owner of the deluxe Tran-Siberian Restaurant in London, functions in reality as the ruthless boss of one of London's most notorious Eastern European crime families, the Vory V Zankone criminal brotherhood, which was formed originally by the inmates of Stalin's gulags in Siberia.
Semyon has one out-of-control son, Kirill (Vincent Cassel), who is the actual rapist of the ill-fated Tatiana, one of the girls he has transported illegally from the Soviet unions to brothels throughout Europe and the United States. Kirill's Russian-born chauffeur, Nikolai (Mr. Mortensen), is not yet a member of the Vory V Zakone, but is very loyal to his employers, and quietly discreet about their crimes and other excesses. When Nikolai first encounters Anna coming out of the Trans-Siberian Restaurant after having consulted Semyon about the contents of Tatiana's diary, Nikolai is immediately attracted to her, but remains distant because of the complications that would result from his romantic involvement with a woman outside the organization.
For her part, Anna remains committed to the future of Tatiana's baby girl, whom she has rescued and now cares for in the hospital. Anna lives at home with her mother, Helen, and her Russian uncle Stepan (Jerzy Skolimowski, the onetime esteemed Polish director), who as a former member of the K.G.B., warns Anna repeatedly to stay away from criminals like Simyon, Kirill and Nikolai. Anna ignores his advice as she seeks, imprudently, as it turns out, to unearth the secrets in Tatiana's diary. A violent confrontation involving Kirill and Anna thereby becomes inevitable, with Nikolai caught in the middle.
All the considerable violence in the film is executed with sharpened metallic weapons, as befits underworld operations that are planned to avoid attracting attention. It is the sheer unexpectedness of this violence from the very beginning that makes it the stuff of very specialized tastes in gruesomeness. I cannot easily recommend these delights to everyone, but my high regard for Mr. Cronenberg's stylistic virtues remains largely undiminished.
As for Mr. Knight, hitherto celebrated for contributing his socially conscious screenplays to Stephen Frears' Dirty Pretty Things (2002) and Michael Apted's Amazing Grace earlier this year, he will not lose any points in Eastern Promises for denouncing the international trafficking of women into brothels around the world.