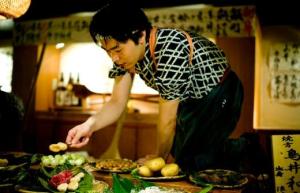 Tuesday's news about eccentric Japanese eatery Inakaya making its U.S. debut next year in the new Times building has the culinary community scrambling for info on Tokyo's famous robatayaki joint.
Eater, for instance, dug up an old Times description from 1984 about the "hearty welcoming shouts" and chefs kneeling "samurai-style in front of a charcoal burner and heaps of artfully arranged fresh ingredients."
By all accounts, its grilled-to-order meats and veggies may well be worth the long wait. (Opening in mid-2008.)
"Dinner might consist of 15 tiny courses: kobe beef kebabs; fresh king crab legs; delicate, seasoned rafts of asparagus; and if you're there in August, a tiny river fish called ayu grilled with salt—its creamy guts intact." (Slate)
But what else do we know about this glorified Japanese steakhouse?
It's noisy. "Ever wanted a quiet night out with friends in downtown Tokyo? Don't come to INAKAYA" (Dine Online)
It's "somewhat hokey." (Forbes)
It's expensive–"6400 Yen for mushrooms?" (Chowhound)
It probably serves sake. "It's a party, it's joyous, it's boisterous." (Lonely Planet)
Tokyo Restaurant Guide perhaps sums it up best: "A good place for tourists."