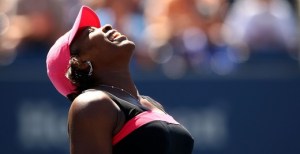 The difference between this match and the last was striking for Serena Williams. In the last, Williams entered the women's locker room on the verge of tears. Today, she came in smiling and gave a big thumbs up.
Serena Williams had her easiest win of the tournament today, blowing away Marion Bartoli in straight sets. Bartoli's pre-game strategy withered away in the face of Serena's much-improved first serve. Bartoli looked slow and had only one look at breaking Serena's serve and that was early in the first set (maybe Martina Navratilova was right?).
Serena moves to the quarters.