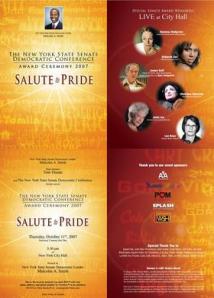 Malcolm Smith, whose evolution on gay issues seems to have occurred around the time he become the Democratic leader in the state Senate, is hosting a "Salute to Pride" event in City Hall on October 11.
The RSVP contact person: Allen Roskoff.
Roskoff is a gay rights activist who has been on the scene since the 1980s (ask him what he thinks of Ed Koch!) and he takes his politics pretty seriously.
During the 2005 mayor's race, Roskoff attended a candidates' forum at NYU featuring Freddy Ferrer. He proceeded to pepper the candidate with questions about a vote Ferrer cast when he was in the City Council, in 1986. Talk about a memory.
But Roskoff isn't holding anything against Smith, who at one point had some difficulty explaining whether he personally supported gay marriage. At a press conference on the City Hall steps announcing he'd be the new minority leader, Smith simply balked at a question on the subject. Later that same day, he turned up at a Pride Agenda event with state Senator Tom Duane at his side and said he was for it.