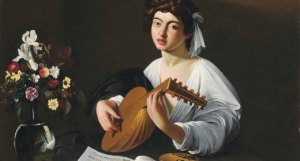 A few years back, Robert Hughes, former art critic for Time magazine and Goya biographer, wrote that sculptor Martin Puryear (b. 1941) was America's greatest living artist, and damned if Mr. Hughes wasn't close to the mark. New Yorkers will get an opportunity to make up their own minds when a retrospective of Mr. Puryear's sculpture opens at MoMA (Nov. 4 to Jan. 14).
A post-minimalist by chronology more than aesthetic, Mr. Puryear embraces handicraft and exhibits an unmistakable love of materials, particularly wood. As a member of the Peace Corps, he learned carving from West African craftsmen and, later, at the Swedish Royal Academy of Art. A sneaking, homespun strain of symbolism informs Mr. Puryear's elliptical sculptures, as does the indispensable example of Constantin Brancusi. It will be interesting to see how Mr. Puryear's unassuming art will fare in MoMA's cold, cavernous spaces. Quite well, I think.
MoMA is doing New Yorkers another favor by mounting Georges Seurat: The Drawings (Oct. 28 to Jan. 7). Featuring around 135 works by the Pointillist painter, this will be the first exhibition in over 20 years devoted exclusively to the drawings. Those expecting reprises of the canvases, with their innumerable pats of oil paint, will discover a more intuitive, if no less classical, artist. Forget the science of color—Seurat's drawings are suffused with mystical light. No artist has dragged conté crayon across a sheet of paper with as much subtlety, surety and mystery.
The Metropolitan Museum of Art is presenting a sequel to its spectacular 2002 hit, Tapestry in the Renaissance: Art and Magnificence. Centering on the baroque, Threads of Splendor (Oct. 17 to Jan. 6) will feature 40 monumental tapestries selected with an eye for condition and color—no tatters here. Designs and oil sketches by Rubens, Jacob Jordaens and Charles Le Brun will focus on the challenges posed to painters by a different, if not unrelated, medium. Director Phillippe de Montebello promises "one of the grandest displays of Baroque tapestry … since Louis XIV strolled through the galleries of Versailles." Heads up, gamblers! Mr. de Montebello's promise is a sure thing.
Salander-O'Reilly Galleries has pulled off a coup: It will host the first U.S. appearance of Apollo the Lute Player (ca. 1596) by Italian Renaissance painter Caravaggio in Masterpieces of Art: Five Centuries of Painting and Sculpture (Oct. 17 to Feb. 1). Working in partnership with Whitfield Fine Art in London, Salander-O'Reilly is celebrating the recent attribution of a canvas that has languished in a private collection for almost 300 years. Apollo will share space with stiff competition—paintings by Parmigianino, Botticelli, Andrea del Sarto, Pontormo, Goya, Tintoretto and others. Caravaggio is sexier than any of them; doubtless he'll steal the show.
SoHo's New Museum of Contemporary Art has moved east—as if it couldn't bear to be in close vicinity to Old Navy, Pottery Barn and Staples. Designed by the Tokyo-based architectural firm Sejima + Nishizawa, this not-so-august institution is unveiling a new building at Houston and the Bowery. The irony is that a "cutting-edge" institution is touting its role in helping "catalyz[e] the transformation of the fabled Bowery." Avant-gardists as proud coefficients of gentrification—who could have imagined it? The New Museum's doors open on December 1 at 235 Bowery.
The Triangle Arts Association, founded by sculptor Sir Anthony Caro, sponsors artist residencies in New York, France and Berlin, providing time and space for the realization of large-scale projects. A variety of events are taking place in honor of its 25th anniversary, including a one-night alumni exhibition in DUMBO. The New York Studio School hosts Triangle at 25, a panel on "studio conversations" that includes critic and curator Karen Wilkin and painter Jill Nathanson (Oct. 3).
Appropriately enough, the Chelsea branch of Mitchell-Innes & Nash will be exhibiting Sir Anthony's new steel sculptures (Oct. 18 to Nov. 21). Devotees of sculpture can ill afford to miss a public discussion between Sir Anthony and Frank Stella about sculpture and architecture at the Drawing Center (Oct. 16).