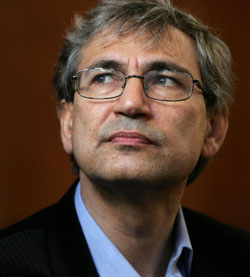 Where would New York be without its Nobel laureates? It's crucial to the collective city ego that a majority of our living room mantels show off very gigantic prizes.
Thankfully, the Istanbul-born novelist Orhan Pamuk, whose books are eccentric and intricate but immense best sellers, paid $1.8 million earlier this month for an apartment at 355 Riverside Drive.
"This is a relatively small, intimate but increasingly exclusive building," the Brown Harris Stevens listing broker James Perez said.
According to city records, the sellers are Meredith and Henry Von Kohorn, a real estate investor who happens to be the founder and committee chairman of the Princeton Prize in Race Relations, an awards program for high-school students.
Mr. Perez wouldn't discuss the deal, but he said the sellers knocked out a maid's room and a second bedroom from the apartment, making a 27-foot-wide and 22-foot-long main space that faces glorious Jersey.
But the 1920's-era co-op's Hudson River views probably don't pack the poetic punch of the 55-year-old Mr. Pamuk's longtime Istanbul environs. "The work room of the writer Orhan Pamuk looks out over the Bosphorus," Salmon Rushdie once wrote, "that fabled strip of water which, depending on how you see these things, separates or unites—or, perhaps, separates and unites—the worlds of Europe and Asia. There could be no more appropriate setting for a novelist whose work does much the same thing."
(Incidentally, Mr. Pamuk was the Muslim world's first writer to openly condemn the fatwa against Mr. Rushdie. As for race relations, Mr. Pamuk was briefly charged after condemning Turkey's silence on the Armenian genocide during World War I.)
Though his novels are obsessed with Istanbul, Mr. Pamuk is not new to the Upper West Side. He was a visiting scholar at Columbia from 1985 to 1988, and this semester is co-teaching "Seminar in the Modern Novel: Double Identity and Border Crossing," plus "Words and Pictures." Maybe he'll have his classes over to show off his new 10-foot beamed ceilings, his oversize windows and his 2006 Nobel Prize.