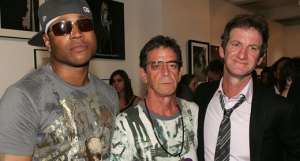 "Life is short. There's no reason why you can't love many different ways of creating," said Vanity Fair and GQ photographer Mark Seliger at his 401 Projects gallery in the far West Village, where an exhibit called "Visions of Rock" debuted on Saturday, Sept. 8.
A black-and-white picture of Pink—topless (yikes!), arms raised high, shot by Bryan Adams—anchored the room. Other musician/photographers included Patti Smith, Michael Stipe, Mick Fleetwood and Jakob Dylan.
Velvet Underground front man Lou Reed had several photos featured. He was wearing black Addidas sneakers and a T-shirt, a lone silver chain around his neck offering the only hint that he was in fact a punk icon, not a soccer dad. "I wrote a foreword for a book [Mr. Seliger] made," said Mr. Reed, explaining how he'd become involved in the exhibit. "A beautiful book. You'll look it up" (We did; it's called In My Stairwell). Also, Mr. Reed said: "I'm a gear-head. I like equipment. I would always be asking Mark 'What lens is that? What light is that?" Then, in a trippy moment that could only have been engineered by Fashion Week, Mr. Reed embraced LL Cool J, the latter wearing jeans and Prada sunglasses, who just "came to see some cool pictures," he told The Transom.
Melissa Auf Der Mer, onetime hot-girl bassist for Hole (who is now working on her second solo album, she said), was wearing a purple velvet dress. "When I was thirteen I used to pray that I could've been born in New York City and lived in the Chelsea Hotel with those people," she said referring to Mr. Reed and his ilk. "I guess I've never met Lou Reed, no! But I feel like I know him. I love him."