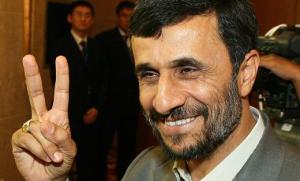 In politics, as in any other form of battle, it's always a good idea to do whatever your enemy would least like you to do.
That basic rule of thumb seems to have been forgotten by many of New York's politicians and much of its media in the past 24 hours, as the flap over Iranian president Mahmoud Ahmadinejad's request to lay a wreath at Ground Zero has gathered steam.
The near-hysterical reaction has put Mr. Ahmadinejad precisely where he wants to be—center stage, as the high profile object of American anger.
Let's be clear: Mr. Ahmadinejad is indeed a loathsome figure—a belligerent Holocaust denier who has also rolled back the modest freedoms his own people had begun to enjoy during the tenure of his predecessor Mohammad Khatami. Iran is also, of course, widely believed to be aiding insurgents in Iraq.
Given all that, it would indeed have been unacceptable to have Mr. Ahmadinejad go through the motions of paying his respects in the pit at Ground Zero.
But here is the crux of the matter: that was never going to happen. The request was rebuffed two weeks ago. In a meeting including representatives of the NYPD, Secret Service and Port Authority on Sept. 6, the official bodies vetoed the idea, reiterating that no-one is allowed to visit the site while construction is going on.
The same message had gone out to other international leaders—and its consistency therefore deprived Mr. Ahmadinejad of the chance to make political mileage out of the matter.
That should have been the end of the non-story.
Instead, an uncharacteristically ham-fisted response to a reporter's question by NYPD Commissioner Ray Kelly earlier this week set off a media and political storm.
The furor is the kind of story of which tabloid dreams are made. "Just Shove Your Wreath," proclaims one New York Post headline today about the "evil Iran prez."
The Daily News, perhaps in need of a fresh clarion call given that the pit visit has already been ruled out, declares that, "Our city must deny Ahmadinejad aid and comfort—including restricting him to certain roads and sidewalks. All of Manhattan south of Canal St. must be forbidden to him by the NYPD."
The politicians got in on the act yesterday—and who could blame them, given that no-one is going to lose votes by speaking too harshly of Mr. Ahmadinejad.
Former mayor Rudy Giuliani led the charge, describing the idea of "assisting Ahmadinejad in touring Ground Zero" as "outrageous". Senator Hillary Clinton chimed in that such a visit was "unacceptable." Several other presidential candidates including former Massachusetts governor Mitt Romney and Illinois Senator Barack Obama joined the chorus.
Coming so long after Mr. Ahmadinejad's request had been turned down, the anger had a confected quality. It also, of course, produced reams of publicity for the Iranian president—publicity that might play a lot better with his domestic audience than it does with angry New Yorkers.
There was one other serious and worrying aspect to the story, however: the response of the NYPD and the Bloomberg administration. As Azi Paybarah reports, the efforts to clarify Mr. Kelly's comments included, first, an assertion by deputy police commissioner Paul Browne that the NYPD opposed a Ground Zero visit by Mr. Ahmadinejad on "security grounds" and, second, an email from Mr. Bloomberg's spokesman drawing particular attention to this point.
Presumably, the NYPD was not seriously suggesting Mr. Ahmadinejad would be likely to smuggle a bomb into Lower Manhattan beneath his trademark anorak.
As everyone knows, the real problem with the visit is that it would not be politically acceptable. The reasons why that is the case are perfectly valid. But by introducing the red herring of security concerns, City Hall was eroding the wall that should rightly separate political priorities from legitimate issues of public safety.
It was especially dispiriting that such a move should come from an administration that has been less inclined toward emotive pandering than most.
Mr. Ahmadinejad is still making noises about visiting the general area of Ground Zero. That is likely to provoke still more loud outrage. A better option from now on would be to simply ignore his cynical and mischievous ploys.