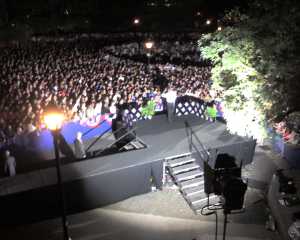 Here's a view, from a hydraulic crane, of last night's rally in Washington Square Park for Barack Obama. The campaign estimated the crowd at more than 20,000 people. (I'm not even going to hazard a guess.)
As expected, Obama gave his usual stump speech, but with some unusually New York-centric notes. He made some veiled references to Hillary Clinton, some of which were sharper than usual (referencing her inability to decide between the Yankees and Cubs at Monday's debate, Obama said "I know my team") but nothing that constituted an overt attack.
Many of the students in the crowd didn't pick up on the Hillary references, but that didn't seem to matter much, at least according to the unscientific sample I spoke with after the speech.
The response from Natalie Marcus, a 19-year-old business student, was fairly typical. She said, "I thought he was totally amazing."