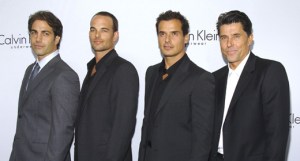 It was like a high-school reunion in the V.I.P. section of the party celebrating 25 years of Calvin Klein's underwear line, held Wednesday, Sept. 5 in the company's midtown headquarters. Model Tom Hintnaus, who first posed for photographer Bruce Weber 25 years ago; spiky-haired Antonio Sabato Jr., who went on to Melrose Place; Michael Bergin, best known for being a caddish lover of the late Carolyn Bessette Kennedy; and current campaign star Djimon Hounsou (accompanied by Baby Phat designer Kimora Lee Simmons) were all there, along with actress Hilary Swank, rapper LL Cool J, singer Fergie and socialite Sophie Bush. Alas, no Brooke Shields.
Mr. Hintnaus, now 50, lives in Hawaii and still works as a model, mostly of eyewear. He recalled how Mr. Klein approached him on the set of a commercial for Calvin Klein activewear in Los Angeles and asking if he was available to do a shoot for a new line in Santorini, Greece.
"He was kind of secretive about what the new line would be. And so I get there, and I'm going, 'This great! This is awesome!' And then he pulls out these briefs. And I just went, 'Okay, and what do I wear with this?' He goes, 'This is it.' I'm like, 'Oh my God.' And he goes, 'This is gonna be huge, this is gonna be on billboards everywhere, I thought I had been duped."
Mr. Hintnaus had not been duped. The Weber-shot ads, which featured him leaned up against a white-washed wall, his crotch in close-up, proved, er, seminal. "At that time there was a lot of controversy around it because it was the first time men were seen as sex symbols, not breadwinners," he said.