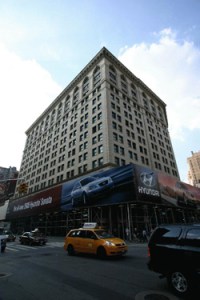 Now that the entire real estate industry is back to work in earnest, it's time to revisit the biggest lease that we're still waiting for.
Since last fall, the advertising group WPP has been looking for about one million square feet to relocate their firms Ogilvy and Mather and Grey Global Group out of their midtown homes at 825 Eighth Avenue and 777 Third Avenue, respectively.
But with soaring office rents and WPP's dropping stock, this real estate search has been the city's most manic and interminable. Finding a huge block at discounted rents is … well, basically proving impossible.
During the year, WPP has been chatting with L&L Acquisitions about its 800,000-square-foot availability at the Toy Building at 200 Fifth Avenue and with—get this—Lord & Taylor about converting its midtown department store into an office building. The idea was to place some advertisers at 200 Fifth and the rest at the Lord & Taylor site.
Today, there's still no lease agreement at the Toy Building, and it appears an impending deal with Lord & Taylor is falling apart.
As recently as a few weeks ago it looked like WPP had convinced Lord & Taylor owner NRDC Equity Partners to downsize its flagship department store at 424 Fifth Avenue, which would allow WPP to convert perfume cases to cubicles and take as much as 300,000 square feet of office space.
Now the negotiations have stalled and are all but dead, said a source with knowledge of the discussions. Richard Baker, the president of NRDC Equity, did not return a call for comment. A spokesman for WPP would not comment.
So, the search goes on. A source said that WPP is still considering the Toy Building and two other sites in Manhattan.
The only thing that seems clear is that WPP is doing whatever it can to avoid a move like the one Cravath, Swaine and Moore made when it signed a massive 600,000-square-foot renewal that will cost $900 million over 15 years to stay at Worldwide Plaza.
Indeed, times are tough for WPP. Its stock has been dropping throughout the year and Citigroup recently cut its rating on WPP's shares from "buy" to "hold."
But as enervating as the search has been, WPP can still rest hope in the form of two aces. Mary Ann Tighe and Greg Tosco of CB Richard Ellis—two brokers whose mantles are overflowing with awards from the Real Estate Board of New York—are representing WPP. A spokesman for CBRE would not comment.