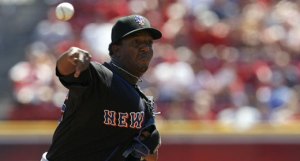 The results of Pedro Martinez's return to a major league mound were heartening to New York Mets fans.
He pitched well, giving up two runs in five innings, and got a win. But the numbers don't begin to tell the story.
The raw statistics from his return start on Sept. 3 against the Reds tell of an outing that is merely workmanlike. Martinez pitched threw 76 pitches over five innings, allowing five hits and two earned runs, walked three and struck out four. But one walk was intentional, two strikeouts came against the opposing pitcher, and of the five hits, one traveled about 40 feet and another was misplayed by Moises Alou.
Actual results take a back seat to two questions Pedro needed to answer in his return: whether he had his velocity, and whether he had his command. He answered both strongly in the affirmative. He threw 62 percent of his pitches (47 of 76) for strikes, throwing all four pitches in his repertoire for strikes, and he reached 91 miles per hour with his fastball while routinely working at 88-89.
The early innings were the least impressive, suggesting a pitcher who, well, hadn't pitched a major league game in 11 months. While leadoff hitter Josh Hamilton didn't hit the ball hard, Pedro didn't throw particularly hard, either, hitting just 82 on the gun with what appeared to be fastballs. Then, on a 1-1 count, he threw an 85 MPH fastball over the heart of the plate, and Alex Gonzalez mashed a double—misplayed by Alou, but a legitimate line drive. His velocity hit 86 on a sac fly by Ken Griffey Jr., but then Brandon Phillips hit a curve hard to score a second run.
But Adam Dunn, who homered against Pedro at this very ballpark in the first inning of his New York Mets career in April 2005, weakly grounded out on a sinker, and Martinez seemed to find his footing.
In the second, he struck out lefty Scott Hatteberg in an eight-pitch at bat—all eight pitches painted the corners: three in, five away (including the fatal changeup). Better yet, Martinez hit 90 MPH in the process. He retired the side in order, including a strikeout of the opposing pitcher, Aaron Harang.
The third inning was indicative of how hard it is to hit Pedro Martinez. With two out, he took on Ken Griffey, Jr. After falling behind 2-0, he threw an 85-MPH fastball. The sinking action foiled Griffey, who flied out to Shawn Green. Even when the hitter has the advantage, Martinez has such late movement on his pitches that the hitter can swing, thinking he's won the battle, and fly out harmlessly.
In the fourth, Brandon Phillips flew out on a pair of changeups—Pedro certainly wasn't going to give him another curveball, and while most pitchers would fall back on a fastball, Martinez knew that Phillips was a dead-red fastball hitter. He walked Dunn, ending a streak of nine retired in a row. After a line out by Alex Gonzalez, Martinez was victimized by bad luck. He pitched Scott Hatteberg away, but Hatteberg guessed right on an outside changeup , and center fielder Carlos Beltran's bobble, followed by Jose Reyes' failure to cover second base, led to the leaden Dunn scoring from first base. Pedro walked the eighth-place hitter, then easily dispatched of the pitcher, reaching 91 MPH as he did so.
Martinez saw his command falter a bit in the fifth, but battled through the trouble. Josh Hamilton lined a mistake, a 76-MPH sinker that didn't sink, down the first-base line—only a Delgado deflection kept it to a single. He struck out Alex Gonzalez on a foul tip after challenging him inside with a fastball. Martinez pitched around Griffey to get to Brandon Phillips, who had 26 home runs on the season, and the capacity to end Pedro's day on a sour note.
But Martinez showed why the Mets were so giddy about his return. He fell behind 2-0, then showed Phillips, arguably the biggest hitter of the game, a changeup away, a fastball in, a fastball up and away that reached 90, a sinker that dropped straight down, and then induced a fly out on a fastball in nearly the same spot as the change.
Pedro then faced slugger Adam Dunn. He'd thrown Dunn seven pitches in two at bats—all away. It was as if Pedro had set him up for this moment. He threw him an inviting changeup in—Dunn leaped at it, too fast, and rolled over it, pulling a grounder to first. Martinez had won yet another battle, and exited the field, exulting over his return. He danced in the dugout.
This wasn't false bravado. Pedro wears his emotions out in public for all to see. (Witness his crying in the dugout after a start last September against Pittsburgh.) But Pedro danced after Monday's start, because he threw strikes. He threw hard. He threw his fastball, his sinker, his curve, even his changeup for strikes. His stuff, as he had predicted, worked against major league hitters.
He danced for the same reason Mets fans watching danced.
Because Pedro, the real Pedro, is back.