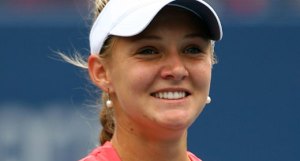 A week ago today, Anna Chakvetadze won in straight sets in a little-noticed second-round match. She won a little bit after 12pm on a backcourt at a time when the majority of the gallery crowd was still in transit.
Afterwards, there was such little interest in the media in talking to her that her post-match press conference was conducted in a player's lounge area—not an interview room—with two bloggers.
"There were more interesting matches to put on the show courts," she said in her straightforward manner.
"I am just trying to play my game, play my best," she continued. "If you play better, more people will pay attention to you."
Tomorrow, Chakvetadze, the number six player on the women's tour, will play Svetlana Kuznetsova for a chance to reach the women's finals.
Last week, I asked her to describe her game to me.
"I'm not like a big hitter like most other girls," she said. "I'm not that tall. I don't have a great serve, so I have to play smart and run more on the court and move my opponent more."
She doesn't exactly fit within today's women's power tennis. Justine Henin plays a strategic game full of change-ups, but Henin also has the power to match. Chakvetadze, who is 5'7 and 128 pounds, has to use all strategy. She's been described in tennis kingdom as a Martina Hingis 2.0—a comparison she rolled her eyes at.
"Lot of times people compare my game with Martina," she said. "I respect her so much like a player, but I think all players are different. Different players and different people and I don't like people comparing me."
Yesterday, after her quarterfinals win, I asked her during a food break about what she said to me earlier—that you only get the attention if you win.
She said, "Now, it's happening, you see!"