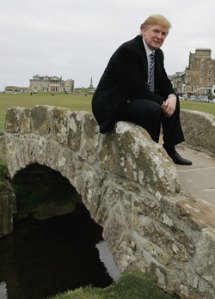 Location: Trump SoHo is a family project, but you guys aren't technically the developers, right?
Mr. Trump: Well, we are partners in the development with Tom Sapir and Alex Sapir. … We have a building that will probably be the last of its kind built in its area. I think that zoning is probably going to be changed down there so that people won't be able to go up high.
Does it bother you when community activists say, 'Listen, this is just simply too high'?
I've seen very little opposition to this building, I have to tell you. I mean there's a small little fringe group that has fought it, and I read yesterday in Newsday, a letter was sent. Why wouldn't they have fought it before they're on the seventh floor? They started fighting, we were already up to the seventh floor. And the reason they did that, they just want to get publicity for themselves.
You think that there will be zoning changes, so this will be the one tall building in the neighborhood. Will that be awkward?
No, that'll be a huge asset. That's not a liability. That's called …
Donald "Don" Trump Jr.: Perfect.
Are there any neighborhoods in New York where you feel like you simply wouldn't want to build because you like the neighborhood the way it is?
Mr. Trump: There are certain neighborhoods, perhaps, where you wouldn't want to build. But, you know, eventually they're going to down-zone the whole city and you're not going to be able to build in New York City anymore, so you'll have to go to China. You literally aren't going to be able to build in New York. They're going to down-zone everything, because nobody wants to have a building that's above 15 feet high. And the city's got to be very careful of that.
I want to know more about this actual deal. Did you guys license the Trump name?
Yeah, but we're partners in the deal.
What stake do you have?
Well, I can't tell you that, it's very private. But we're partners in the deal, very substantial partners in the deal, and we also manage the hotel.
Your Wikipedia entry talks about 'television personality' before real estate. Do you want to be remembered as a New York City real estate mogul, or as a TV personality or even a business guru?
Well, I'm one of the largest developers in the world, and real estate will always be my primary thing. But I have fun with television, and The Apprentice has become a monster hit. But I want to be known for real estate, not for television.