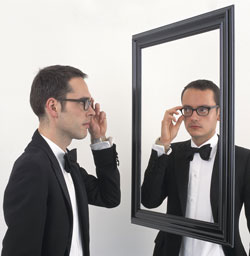 On Saturday, Sept. 8, one of the Olsen twins arrived at Gagosian Gallery in Chelsea to attend Warhol Factory X Levi's' spring runway show, which featured designs by the British artist Damien Hirst.
While paparazzi crowded in on the diminutive, blond-haired gamine, fashionistas seated across the runway had a hard time pinning the right name to her face. "That's Ashley," declared one bleary-eyed editor. "Mary-Kate has that, you know …"—she fluttered her hand around her noggin–"reddish-brown thing going on." As it happens, it was indeed Mary-Kate, her hair restyled and now a much closer match to her sister's.
D.J.-ing at the same even were a duo that go by the name Andrew Andrew, who dress alike and finish each other's sentences.
The alluring confoundingness of identical—or near-identical—twins has suddenly become an irresistible concept for the fashion industry.
"Twins" abound in current advertising campaigns, most of which debuted in the September issues of the fashion glossies. Not biological siblings, but otherwise highly recognizable faces from the runway ranks, stripped of their identities and made up to look like eerie doppelgängers instead. Alberta Ferretti's campaign, shot by photographer Steven Meisel, features models Julia Stegner and Adina Fohlin, wigged and fixed in identical poses around a Los Angeles mansion. Jil Sander, whose brand image is forever grim and intellectual, also pairs women—one in profile; the other facing the camera. In the campaign's men's version, the models, though facially less similar than their female counterparts, look almost conjoined in their matching all-black garb and uniform stance.
Valentino, meanwhile, opts for intimidation, with a pair of ice queens reminiscent of Robert Palmer's stoic "I Didn't Mean to Turn You On" femmebots. Same for Mulberry.
What are the houses trying to tell us?
"It's kind of creepy and scary," said the stylist Phillip Bloch with a shudder.
Indeed. Did the ghost twins from The Shining grow up and start shopping in SoHo?
"I think people are always turned on by that narcissistic mirror image," Mr. Bloch continued. "So that might have something to do with it."
The House of Ferretti said that, far from the macabre, it had the modern woman in mind. "My idea was to reflect the reality of contemporary life, in which women use the game of duality to better assert their complex personality," Ms. Ferretti, who has been described as the "Ralph Lauren of Italy," said in a press release announcing the campaign's launch. The company showed the spring collection of its more casual line, Philosophy, at New York Fashion Week on Monday, Sept. 10 and is a favorite of celebrity customers Christina Ricci, Natalie Portman and Uma Thurman.
Newsweek style and culture reporter Dana Thomas, the author of the best-selling new book Deluxe: How Luxury Lost its Luster (Penguin), about the corporate takeover of fashion, preferred to read the twins imagery in advertising as a "parable" about market forces. "These companies are trying to cater to the really wealthy—that old niche clientele that they've always had—while also going for 'the twin' on a more middle-market scale," she said by phone on Wednesday, Sept. 5, after a signing attended by her pal Dominick Dunne. "It's like the rich twin and the poor twin," Ms. Thomas said. "The one who made it and the one who lives a sort of average life."
She also cited Diane Arbus' 1967 photograph of identical twin girls. "You know fashion people revere her!" she said.
The twins fixation is manifest not only in advertising but also in the magazines' editorial content. The cover shot of Vogue Italia, also photographed by Mr. Meisel, evokes them. As does the cover of the August 2007 issue of the French glossy Numéro. On it, hot-stepping newbie models Caroline Trentini and Masha Novoselova, shot by photographer Greg Kadel, appear as near-identical biker chicks, sporting black leather Hermès gloves and motorcycle caps. This marks the first time that Mr. Kadel, who has photographed 17 covers for Numéro, has used a duo.