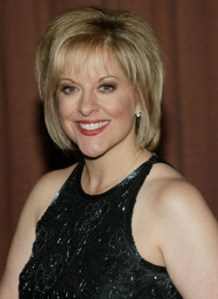 Sensationalism buys big condos!!!! Georgian prosecutor-turned-CNN anchoress Nancy Grace, whose prime time show bills itself as "television's only justice-themed interview/debate show," has bought a third apartment on a high floor of The Revere condo on East 54th Street.
She paid $925,000, public deeds show. The deal closed in late May, but didn't show up in city records until last week.
Ms. Grace orates with a whopping, goading TV twang ("Me, me, me, me, me, me, me, me, me, me, me, it's all about me," is how she mocked a defendant last month). So of course she'd have a puffed-up Manhattan spread: This 842-square-foot apartment complements the 622-square-foot condo she bought three years earlier, which complemented a 1,230-square-foot place she bought in 2002.
According to city deeds, her lawyer for this deal was Jason Oshins, a recurring guest on Ms. Grace's eponymous CNN Headline News program, where he's billed as a defense attorney. "When I get charged with two cocaine possessions, I'm going to hire you," she told him last month on the air. "Don't lie to me, Jason Oshins!" she said earlier.
He wouldn't comment on this deal: "You know any attorney, for fear of losing one's license, can't confirm anything." But law practice aside, he has a budding career as a TV expert. "Being good-looking and intelligent, I figured I'd be a perfect talking head," he explained to The Observer. "So that's how I've gotten to know people I know from Court TV and CNN Headline News."
But is he a defense attorney or a real estate lawyer? He said general practitioners can pick and choose what they do, and lately he's been picking real estate.
As for Ms. Grace, here's another reason she might have wanted to increase her East Side spread's size to 2,694 square feet: She semi-secretly got married to a robustly sized Southerner earlier this year. The couple is expecting twins.