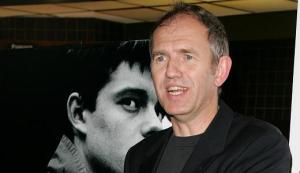 On Tuesday night a small but achingly cool-looking crowd gathered outside the Chelsea West Cinema for the premiere of Control. The film profiles the life of Ian Curtis, frontman of beloved late-70's British post-punk band Joy Division, who committed suicide at age 23 on the brink of international stardom. It's the full-length feature debut from Anton Corbijn, revered rock photographer, and was all the talk at the Cannes Film Festival last May, currently whipping the U.K. into hot lather for its debut on October 5th (it will open here October 12th at the Film Forum).
Helena Christensen swept in wearing a midnight-blue dress, accompanied by some attractive guy. Steve Buscemi arrived with his son and his friends. Jason Lewis (aka Smith from Sex and the City) was there rocking a hat and some seriously skinny skinny jeans. Inside the theater, Harvey Weinstein of the Weinstein Company, which will be releasing Control, took the stage to introduce the film – something about bidding wars at Cannes, enlisting Bono for help in securing the rights – it was all very Entourage. Mr. Corbijn made a brief but sweet speech, introducing two of the actors in the film – one of whom, he said, had yet to be able to sit through the whole thing.
Though the rise-and-fall-and-ultimate-destruction-of-fame is a familiar cinematic trope, Control is already looking like something special. We may have been suckered by a gimmick here, but the movie is beautiful to look at. Technically it's shot on black-and-white film but Mr. Corbijn's stylized vision gives Curtis's bleak hometown of Macclesfield forty different shades of gray, and under the current Wes Anderson aggressive color-crazed regime, it's frankly a bit of a relief. (And we're willing to bet this movie will spawn more men's fashion than Darjeeling Limited.)
Sam Reily, in his first major acting role, is spookily reminiscent of the troubled and brilliant Curtis, and Samantha Morton, who portrays his long-suffering wife (the movie is based on Deborah Curtis's memoir) is fantastic. Even for those who didn't lock themselves in their room listening to the group's big hit, Love Will Tear Us Apart, back in the 1980's (or, really any of the bands that defined the Factory/New Wave sound already immortalized in 2002's 24 Hour Party People and aggressively exhumed by Williamsburg disc jockeys) have so far seemed to be sucked in by the film's simple love story.
After lengthy applause and some post-screening orbiting of Mr. Weinstein and his (teensy) girlfriend, Marchesa designer Georgiana Chapman, the crowd moved south to a gallery on the West Side Highway in the West Village. Ms. Christensen didn't seem to be there (nor Mr. Weinstein) but the rest of the crowd swayed oh-so-hiply to appropriate late '70s post-punk tunes and fought over the mini grilled cheese sandwiches.
Downstairs, in a dimly-lit red basement-like room, everyone was smoking cigarettes.