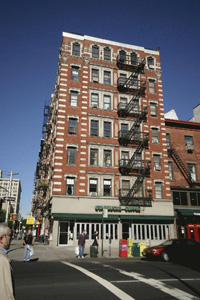 If the East Village is going the way of the West Village—where all the rough edges are smoothed out to the consistency of a granite countertop—this is a deal that symbolizes it.
A 10-building portfolio is on the market through Eastern Consolidated for about $160 million, with most of the apartments located on Second Avenue between Ninth and 10th streets.
First, what's the most attractive selling point?
"What's nice about these buildings is that the unit size is bigger than most places in the East Village," said Scott Ellard, a broker at Eastern Consolidated. "In the East Village there's a tradition of tenements, but these apartments have fuller layouts that make some of them available for conversion to condos."
Yes, condos, of course, condos. Mr. Ellard, who is showing the space along with broker Brian Ezratty, said that 156 Second Avenue, an apartment building with 31 units, is the most attractive candidate for conversion—there are others, too, but he didn't want to say which ones.
Though, if anyone is singing a swan song for the East Village in 2007, they are probably far too late. After all, here's a roster of some of the retail tenants in these apartment buildings: Pinkberry, Max Brenner, Coldstone, Chase Bank, Burritoville and Starbucks.
Seven of the buildings are walk-ups and three of them have elevators. Mr. Ellard did not say who is selling the buildings, but city records show that Jonis Realty of Great Neck, Long Island, where Nathan Halegua is principal, is a part-owner in the package.
Mr. Ellard said that the current owners purchased these 10 buildings as a portfolio in 2005 for about $93.5 million.
According to city records, Clearwater Associates, the real estate group owned by the Mets owners, the Wilpons, sold them the portfolio. Now it looks like Mr. Halegua is looking for a tidy profit on that buy.
East Village apartments have been flaring up lately—Extell recently sold a portfolio to Westbrook Partners for $97.5 million, which included 17 apartment buildings.
The buildings in this purchase include 141, 145, 147, 151, 157 and 156 Second Avenue; 24 St. Mark's Place; 111 East Seventh Street; 213 East Fourth Street; and 244 East 21st Street.