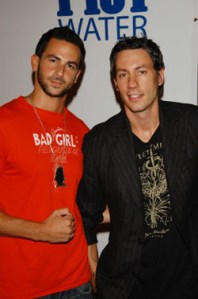 Michael Satsky and Barry Mullineaux, the young, handsomely hip proprietors of Stereo nightclub on West 29th Street, have long relied on celebrity sightings to keep their trendy 5,000-square-foot dance club in the headlines.
Every time the tabloids spot beauty queen Tara Conner illicitly smoking cigarettes in the V.I.P. section, or spy pretty-boy singer John Mayer practicing his pickup lines on comely clubgoers, the publicity only piques the not-yet-two-year-old venue's enduring prominence.
Lately, though, the buzz has transcended the gossip pages and headed into crime-blotter territory.
On Sept. 6, police shuttered the hugely hyped West Chelsea hangout for the second time in a month—the latest salvo in a long-standing legal spat between the city and the club's owners over an array of issues.
Just four days earlier, cops also responded to a reported burglary at the notorious nightspot. Sneaky thieves had reportedly drilled a hole in the roof of the single-story building one Sunday night, broke into a safe, and made off with more than $29,000 in cash.
And, just a week prior to that incident, officers were called to the hot spot yet again after a reported Sunday night stabbing, allegedly involving former Queens playground standout Rafer Alston, now of the N.B.A.'s Houston Rockets, who was later arrested and charged with assault. (Not one to let a little alleged slashing potentially spoil the celebrity-friendly vibe, Stereo management has publicly backed the 6-foot-2 professional hoopster's professed innocence.)
That's an awful lot of ink in just a short amount of time—even for a place recently hailed by Paper magazine as Manhattan's "Best Club."
Naturally, Stereo's in-house spin doctors have worked hard to twist each newsy tidbit in their favor, casting the club as an honest, hardworking business brutally victimized by overzealous regulation.
In a rather one-sided Aug. 18 broadside in the New York Post, Stereo lawyer Bruce Bronster lashed out at authorities for what he described as an unfair earlier raid over a mere "garden variety of infractions," specifically citing "a noise complaint, a fight, a fruit fly."
He conveniently neglected to mention the garden variety of drug charges. (The city's formal court complaint, which further details multiple assaults, repeated citations for indoor tobacco use and other regulatory blunders, doesn't even mention the purported "fruit fly." A mere metaphor, Mr. Bronster later clarified.)
A court-ordered independent monitor of the premises, however, has blamed much of the club's legal woes on something else entirely—specifically, a certain segment of Stereo's regular clientele.
And it's not so much the Conners or the Mayers of the world.
According to a written report by Manhattan-based security consultants Meyerson Associates Inc., whom club management hired as part of a settlement agreement to stay in business, Stereo's weekly "hip-hop / rapper" events on Sunday and Monday nights are perhaps the biggest source of trouble for the embattled venue.
"The other nights are upscale 20's – 30's aged patrons who are quite orderly and sit for bottle service," according to the Aug. 2 report, which is included in court records.