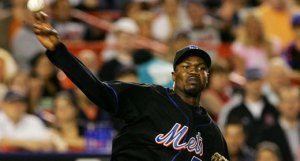 Despite the Mets' recent downturn, Willie Randolph has loyally stuck to the players, and strategy, that got the Mets to September 12 with a seven-game lead in the National League East.
But in the case of reliever Guillermo Mota, Randolph 's unwavering confidence in the face of overwhelmingly disastrous results would leave even Tammy Wynette shaking her head.
Mota's numbers are ugly—a 6.02 ERA, 8 home runs in 52 1/3 innings. He throws just two pitches, a 96-MPH fastball and a changeup at around 84-86 MPH, and he's been unable to command either consistently all season.
Put those numbers in a historical context, and Randolph's stubbornness ranks among the greatest oddities in recent baseball history.
On Sept. 16 against the Phillies, after Carlos Beltran tied the game at 5, Randolph brought in Mota to start the sixth inning. Walk, error, walk, and Mota's day was done, leaving the bases loaded. Three days earlier against Atlanta, Mota entered the eighth inning with the tying runs on base. A base hit later, the game was tied. On August 28, Mota served up a game winning home run to Ryan Howard, after Randolph asked him to pitch the ninth and tenth innings of a tie game against their rivals for NL East supremacy.
The 2007 Mets have three late-inning options with an ERA 3.16 or lower—Pedro Feliciano, Aaron Heilman and Billy Wagner—and all three have ERAs under 3 in September. Should the situation call for a righty specialist, there is Jorge Sosa (.195 BAA from righties). The lefty specialist is Scott Schoeneweis (.217 BAA from lefties). Also available is top pitching prospect Mike Pelfrey, who entered Wednesday's start with a 3.48 ERA since his 95-96 MPH fastball returned, 20 strikeouts in 23 innings, and only one home run allowed. Joe Smith, who was sent to the minors for struggling, has a season ERA of 3.29—nearly half of Mota's.
The Mets have taken a fair amount of heat over the performance of their bullpen, and overall the group ranked eighth in the National League in bullpen ERA entering Wednesday's games, at 3.93. But remove Mota's innings, and the rest of the bullpen sports a 3.56 ERA—third in the National League, just .02 behind the Dodgers for second. Overall, the team's ERA is sixth in the NL at 4.13. Absent Mota's contribution, the total team ERA is third overall, .01 behind the second-place Dodgers.
This is not normal.
Mota's 6.02 ERA is a freak outlier of historic proportions. With two earned runs allowed in Sunday's game, Mota edged out Mel Rojas' 1998 season for the worst ERA in the Mets' history among all relievers with at least 50 innings pitched, though his 1/3 of an inning on Sept. 18 dropped him back just below Rojas.
That year, just one season after Rojas racked up an impressive 36 saves, he was finished as a useful pitcher. That became abundantly clear in his last five outings, when Rojas saw his ERA balloon from 4.09 to 6.05 (from August 24-September 8). Then-manager Bobby Valentine didn't use Rojas again all season.
Guillermo Mota's failure, meanwhile, has been of the season-long variety. His ERA hasn't been below 5 since August 9; his ERA was only under 4 in his first appearance.
And only Rojas is close among Mets relievers all-time. Not during the 1962 120-loss season, or the debacle of "The Worst Team Money Could Buy" in 1992, or any of the many other forgettable Mets seasons has a reliever struggled to as high an ERA as Guillermo Mota.
In fact, his 6.02 ERA ranks 57rd-highest among all relief pitchers with at least 50 innings since 1950. That's National and American Leagues, every team.
But among the 56 worse than Mota, only three pitchers belonged to a first-place team. Tim Stoddard had pitched four seasons for the Baltimore Orioles with ERAs 4.01 and lower prior to his 6.09 mark in 1983. Stoddard was left off of the postseason roster.
T.J. Matthews of the 2000 Oakland A's finished with a 6.03 ERA. But he pitched just six times in September, twice with the A's holding leads of at least ten runs, and did not pitch in the postseason.
Norm Charlton had posted ERAs much better than league average for seven consecutive seasons prior to his 1997 mark of 7.27 for the Seattle Mariners. He'd also won a World Series in 1990 in Cincinnati , earning the trust of his manager in both places, Lou Piniella.
But Randolph has only had Mota since August 20 of last season, when Cleveland dumped him on New York for cash after an awful tenure with the Indians. And while he was spectacular over 18 regular season innings for the Mets last year, he faltered in the playoffs (5.40 ERA in 8.1 innings), then missed 50 games to start 2007 after testing positive for steroids.
Randolph seems determined to make history here by playing Mota and still winning the division. Unfortunately, it may be impossible to do both of those things.