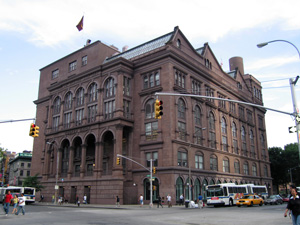 Back in March, the New York Post told us that Cooper Union was looking to sell its current engineering building between Third and Fourth avenues at 51 Astor Place.
Six months later, we've been patiently waiting, but still no news. It's always fun when a university gets involved in the real estate game and because they have so much land any sale can change the face of a neighborhood (and don't forget, Cooper Union owns the ground underneath the Chrysler Building).
With this sale, there's a possibility of razing the old building at 51 Astor and putting up a new 350,000-square-foot tower that could be developed as Cooper Union gets itself a new building nearby at 41 Cooper Square.
So what's happening?
"Absolutely no comment," said Will Silverman, the right-hand man to Studley broker Woody Heller, who's handling the sale.
One wonders if there's a hang-up in the deal, but Mr. Silverman wouldn't say either way.
By the way, should we start calling Mr. Heller the Big Man on Campus? While Darcy Stacom, Scott Latham and Doug Harmon have robbed all the big money deals in Manhattan, Mr. Heller has carved himself a nice niche with the city's universities.
Besides the Cooper Union deal, Mr. Heller orchestrated the deal that allowed for New York Law School to sell a $136 million development site. For that, he was honored, along with colleague Howard Nottingham, with this year's Real Estate Board of New York's Most Ingenious Deal of the Year Award.