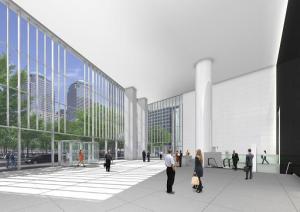 Anticipating the type of questions that arise this time of year, developer Larry Silverstein held a press conference today to assure everybody that rebuilding at the World Trade Center site continued on track, that shovels will go into the ground for his three towers in January, and that they would open in 2012.
If that's not news, the 200-odd media people who turned out, many from national and international news outfits that cover developments like this from a distance, will try to believe really hard that it is. Instead of starchitects Richard Rogers, Sir Norman Foster and Fumihiko Maki, who attended last year's unveiling of the actual designs, senior staff people from each of the three firms gave updates.
Yet the renderings looked remarkably the same, aside from a few details at street level.
"We feel much too much discussion of these projects being towers, and we can't hide the fact that they are," Gary Kamemoto, director of Maki and Associates, said. "But what's probably more important is, how do these very big buildings come down to the ground and create a life to reurbanize this part of lower Manhattan?"
An example from Tower 4, which his firm is designing: a polished black granite wall in the lobby which should reflect the World Trade Center memorial across Greenwich Street (see above). Sir Foster has placed glass elevators on the outer walls of his tower so that passers-by can watch traders going up to their floors (and vice versa). Mr. Rogers is planning a "media wall," to be designed by an as-yet-unnamed artist, which would flash images and videos inside the office lobby but which would be visible from the street.
Mr. Silverstein has put up more images here.