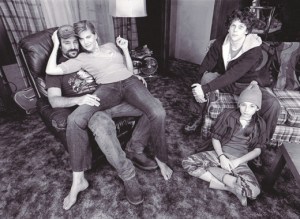 "It's like a messy play, nothing feels concrete," said Jesse Eisenberg, the mop-haired star of 2005's The Squid and the Whale, now appearing in Scarcity, off Broadway, on the Atlantic Theater Company's Linda Gross Theater stage. "The characters are driven by various things, and you're drawn to choose one over the other on a given night, based on what you're feeling personally or what's being given to you by other actors. It seems like every night is exciting but also intimidating, too. Sometimes I'm disappointed in what I did, because it doesn't feel like I can perfect it and then repeat it."
But actually Scarcity thrives on its imperfections. Written by Lucy Thurber—no relation to James, we think—the script examines the cavernous class divide in the doldrums of western Massachusetts, where 16-year-old, flannel- and cargo-pant-clad Billy (Eisenberg) is using his smarts and sexuality to influence a naïve teacher and get accepted to private school. His supersmart little sister Rachel, played by Meredith Brandt, is worried about being left behind to take care of her two parents, Martha (Kristen Johnston) and Herb (Michael T. Weiss), who live paycheck to paycheck and stumble from bars to dead-end jobs.
"People tell me they're jealous of these characters, even though they're two drunks who are big messes," said the raspy-voiced Ms. Johnston, stage veteran and former star of the sporadically lamented 3rd Rock from the Sun. "They're just so in love and react to each other honestly."
"They kind of deal with interpersonal relationships in an immediate way, rather than procrastinating or in a neurotic way," added Mr. Eisenberg of the characters.
Neuroses aside, Ms. Johnston says she hopes the play will make audiences think twice about the working class, a segment of the population oft ignored by the Great White Way.
"Did you think about it the next day?" she asked. "Because that's all I really want. I want this play to stay with people."