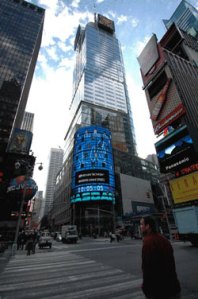 When Condé Nast moved its headquarters from Madison Avenue to 42nd Street in 1999, it brought instant credibility to the Times Square office market. Now, only eight years later, Condé Nast is again making plans to relocate its headquarters to another untested area for big-name Manhattan office tenants.
Condé Nast intends to move out of its home at 4 Times Square and into an entirely new tower in Hudson Yards on the far West Side by 2015, developer Douglas Durst told The Observer this week. The new tower, as sketched out as part of a proposal by the Durst Organization and Vornado Realty Trust for the Hudson Yards development site, would be exclusively for Condé Nast and would be built to 1.5 million square feet.
Mr. Durst, the developer of 4 Times Square, said that Condé Nast would consolidate its offices in the new tower and would move out of the roughly 700,000 square feet it currently occupies in 4 Times Square. The Condé Nast lease there ends in 2018, but Mr. Durst said a deal would be negotiated to let the publisher break the lease by 2015.
This is all under the condition—and this is a significant condition—that the Durst Organization and Vornado win the bid to develop the 26-acre Hudson Yards site. Bids are due Thursday to the Metropolitan Transit Authority, the yards' owner; other companies preparing proposals include The Related Companies, Brookfield Properties and Tishman Speyer. Women's Wear Daily first reported that Condé Nast wanted to build a tower on Hudson Yards. The New York Times reported on Monday that rival developer Tishman Speyer has secured Morgan Stanley as a potential anchor tenant for a new tower in their proposal.
Mr. Durst said that having Condé Nast already as its anchor tenant can only help the position of its bid with Vornado.
"We think it's a tremendous advantage," he said. "We are very excited about it. We hope it'll help our bid. We think the team we put together has put us in an excellent position."
A call to a Condé Nast spokeswoman was not immediately returned.