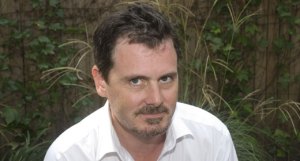 The actor Chris Eigeman is having a baby. "It's a boy flavor," said Mr. Eigeman, 42, sipping a cup of tea in the backyard of his Brooklyn Heights apartment on yet another weirdly warm October day. "Did you see my very pregnant wife when you came down the street?"
Best known for his clean-shaven, uptight leading roles in Whit Stillman's trilogy of films about young urban angst among the privileged class (Metropolitan, Barcelona and The Last Days of Disco) as well as Noah Baumbach's pre-Squid and the Whale work (Kicking and Screaming, Mr. Jealousy), the goateed, relaxed Mr. Eigeman hasn't spent much time with kids. He only played a dad once on screen, in a small film called Clipping Adam, and isn't terribly eager to again. (On being offered such parts: "'Oh, really … the dad?' I don't want to play the dad. The dull dad. Or, like, the really mean dad?") But he has written and directed his first feature film, Turn the River, which will premiere Friday at the Hamptons Film Festival. And making a movie feels, he imagines, about the same as having a baby.
"The affection you have for [the film] has to be the same as the affection you have for one of your kids," Mr. Eigeman hypothesized, his gray-blue eyes serious, gray-white glinting in his beard. He was certainly dressed for Dad-dom, in loose light blue jeans and a neat white Oxford cloth shirt with a pen in the pocket. "You don't want to see it manhandled. You don't want anybody to say anything nasty about it, not even behind your back. When you're in a film, you have that, but I think to a lesser degree. Here I have very little cover."
Turn the River is gooey stuff for a guy who's made his career playing the smartest asshole in the room. It's the story of a pool-hustling woman named Kailey (played by Mr. Eigeman's good friend Famke Janssen, the Dutch former model and Jean Grey from the X-Men franchise, whom he met on the set of indie flick The Treatment), who's trying to win enough money on the table to make a life for herself and her estranged son, Gulley. (Incidentally, Gulley is also the name of the Eigemans' beloved white German Shepherd, who himself was named after the main character in Mr. Eigeman's favorite book, The Horse's Mouth by Joyce Cary. And no, he won't be naming his actual son Gulley.) In Turn the River, Gulley lives with his dad and stepmother in Manhattan, but sneaks off in secret to meet his mother; the two exchange letters like clandestine lovers via an old friend of Kailey's.
Perhaps you were expecting that fourth Whit Stillman movie that Whit Stillman hasn't gotten around to making? Or a Kicking and Screaming for our midlife crises instead of our postgrad rut? Mr. Eigeman's onscreen persona is so ingrained in the minds of a certain generation (the one currently dominating Brooklyn and East Village streets with banded left hands and baby strollers) that it was hard not to assume that all these years—from his debut as WASP-y Nick Smith in Metropolitan to his turn on Gilmore Girls as a witty, neurotic insurance executive named Digger—we were seeing Chris Eigeman there on the screen, not a character he was hired to portray. He was the crush of choice for every girl who ever, even for a second, dreamed of being Parker Posey.
Sitting in his neatly manicured backyard, Mr. Eigeman is as erudite and quick with a joke as any fan would expect. When this reporter arrived, he was reading The New York Press, wide-eyed over that story about New York Times reporter Deborah Solomon and her questionable interview methods. He dropped references to bands like the National and Arcade Fire as naturally as any 25-year old. He's hip to the World Wide Web.
But Turn the River reveals a side of Mr. Eigeman that only those close to him know. "Chris is the kind of person who cries really easily, so I wasn't surprised at all by the sensitivity of Turn the River," said Mr. Baumbach via phone from the Mill Valley Film Festival in California (lordy, what's next—a fest on the Moon?), adding that even a political newspaper story can turn his pal misty. Mr. Baumbach, who has remained close to Mr. Eigeman since casting him in Kicking and Screaming more than 10 years ago, shared some of the equipment he used for his upcoming film Margot at the Wedding with Mr. Eigeman, whose movie was made for less than a million dollars and shot around New York City in just 21 days.
Some elements of Turn the River, which takes its name from two poker terms, are straight-up autobiographical—the split-up parents, the gambling and game playing. "My mom and dad got divorced, so it was one of those things where Sundays I'd go to dad's apartment, and this was, say 1970-whatever, and it had a pool table on the top floor in a very traditional kind of divorced-dad apartment building," said Mr. Eigeman, who grew up in Denver, Colorado, attending the Putney boarding school in Vermont. "It was just the sort of thing where we could play pool together and we could talk about the Broncos. And that was pretty much it."
Later on, he found a worthy competitor in his now-wife, Linda, 42, against whom he's been shooting pool since they met at Kenyon College. (Yes, except for a brief breakup followed by "a very long letter-writing campaign on both of our parts that I don't think could happen today in the land of e-mail" they have been together that long. And to think, most of his characters could barely even date!) The two would play eight ball in halls near Gambier, Ohio, and later, once they moved to New York in the late 1980's, at Julian's, on 14th street, and Chelsea Billiards. The Eigemans have a pool table now in their upstate farmhouse, near Hudson. (It wouldn't fit in their parlor floor brownstone apartment.)
"We'd play these first-to-200-wins—whoever wins 200 games could ask for whatever they wanted," Mr. Eigeman said. "And she won the first one and I won the second and asked for a night at the Algonquin, and that's where I asked her to marry me." (Heart palpitations!) The actor-director has his wedding anniversary inscribed on the inside of his wedding band. "I was told to do this—it's a very good idea," he said sagely. Their 14th anniversary was earlier this month.