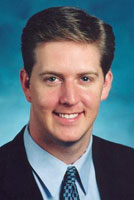 For the first time in a while, amid continuing bad news, the Hevesi family has a reason to celebrate.
Tomorrow, former state comptroller Alan Hevesi's son Andrew is getting married.
An Assemblyman in Queens, Alan is marrying a woman named Rachel Ross in Massachusetts.
Alan Hevesi resigned after he admitted to having state employees chauffeur his ailing wife without reimbursing the state. Then, Alan was implicated in a state pension fund scandal. Today, Andrew's older brother, former state Senator Dan, hired a lawyer to defend him against allegations that he got kickbacks from the arrangement.
Andrew hasn't returned calls for two weeks about his or other stories I've called him about. Another person familiar with the event said of the Hevesis, "I'm sure they'll all be there."