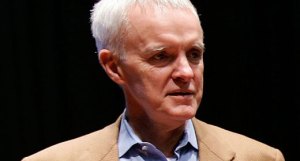 Bob Kerrey had a rare chance to play hero to his party and to reclaim a prominent spot on the national political stage.
The 64-year-old, the president of the New School in New York City since 2001, could easily have returned to Nebraska to run for the Senate seat of the retiring Chuck Hagel, and he likely would have won: In three prior elections (for governor in 1982, and the Senate in 1988 and 1994), Mr. Kerrey was undefeated, clobbering his Republicans foes in what was and still is a very red state. But he's decided to take a pass.
"The reason is simple enough," Mr. Kerrey said in a statement on Wednesday. "For my family and me now is not the time for me to re-enter politics as a candidate." [He elaborated later in the day in an interview with Jason Horowitz here.] This is the first piece of good news for Senate Republicans all year: After months of retirements, scandal, financial woes and worrisome poll numbers, they can breathe a sigh of relief that at least Nebraska (probably) won't be in play in 2008.
For Mr. Kerrey, the decision wasn't exactly a surprise, given his maddening history of stepping to the brink of a dramatic political move only to pull back.
In August 1993, he tormented President Clinton and the Democratic establishment for one excruciating summer day, threatening to cast the decisive vote against Mr. Clinton's first budget—a decision that some thought could have brought down the Clinton presidency – only to vote yes in the end.
A little more than a year later, he called Mr. Clinton "an unusually good liar" and met with Paul Tsongas, the former Massachusetts Senator who at the time was publicly urging Mr. Kerrey to challenge Mr. Clinton in the 1996 Democratic primaries—or to bolt the party and run as an independent. But Mr. Kerrey stayed loyal to the Democrats and instead ran the party's Senate campaign committee for the '96 cycle.
Then he stoked talk that he'd run for the presidency again—he mounted a disappointing candidacy in the 1992 primaries—making the customary rounds in the early primary and caucus states in the run-up to 2000. In the end, though, Mr. Kerrey declined to oppose Al Gore, the sitting vice-president, although Mr. Kerrey did endorse Bill Bradley.
There was even a brief and inexplicable flare-up in the spring of 2005, when Mr. Kerrey, retired from elected politics and overseeing the New School, apparently began dreaming of Gracie Mansion while filling out his tax returns. The exact reason for his interest was unclear—he'd been exceedingly complimentary of incumbent Michael Bloomberg—but Mr. Kerrey nonetheless put out the word that he was eyeing a late-starting mayoral bid, only to throw cold water on his own idea a few days later.
And so there was understandable skepticism among national Democrats as it became clear over the past year that Mr. Hagel, a maverick anti-war Republican and Kerrey friend, would not seek re-election in 2008. When Mr. Kerrey's name was first publicly connected to the opening, few took the talk seriously. But then Mr. Kerrey ratcheted up his flirtations, telling the New School's board last month that he was tempted and that he might not be long for the academic world. Democrats began to think they might hit the jackpot in Nebraska after all.
Republicans, not wanting Mr. Kerrey to get the jump on them, swung into action too: Mike Johanns, a former Nebraska Governor, abruptly left his post as the U.S. Agriculture Secretary—even as a major farm bill years in the making was entering its most critical stage—to return home and enter the race.
And then? Nothing happened. A few weeks passed and Mr. Kerrey made no further moves. What came next was predictable. "I nearly said yes to leaving (the New School)," Mr. Kerrey said in his statement, before reiterating that "now is not the time for me to re-enter politics as a candidate."
But if this isn't it, will there ever be a right time for Mr. Kerrey to return to politics?
A Vietnam Medal of Honor recipient who lost a foot in battle, Mr. Kerrey was pegged as a rising political star from the moment he won Nebraska's governorship in 1982. In office, he was a hit with the public and he opted not to seek a second term in 1986, instead eyeing the Senate race in 1988. After easily unseating appointed incumbent David Karnes in that contest, Mr. Kerrey trained his sights on the White House.