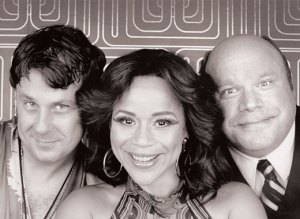 To prepare for her role as talentless songstress Googie Gomez in the Roundabout Theatre Company's production of Terrance McNally's The Ritz, currently playing at Studio 54, actress Rosie Perez watched YouTube clips. A lot of them. "I looked at videos of today's contemporary pop singers, the good and the bad," she told The Observer over the phone. "I wanted to look at the pop singers who truly think they are great, but they're really not."
Ms. Perez, 43, had to learn how to be good at being bad, to shriek off key and dance awkwardly in sparkling, Donna Summer-inspired costumes for the show, which revolves around a garbage collector (Kevin Chamberlin) on the run from a mob relative. He finds refuge in a gay bathhouse where he meets Ms. Gomez, who mistakes him for a Broadway producer.
Ms. Perez said she logged hours studying Beyoncé, Christina Aguilera and Kelly Clarkson to learn how to do it right, but when asked to name her inspirations for the wrong, she "won't even go there." "It's a lot of head shakes and fierce lip pouts to the camera," she admitted with a laugh. (Britney at the MTV Awards, perhaps?)
"As a choreographer, I understand," said the Brooklyn native, who worked as the choreographer of In Living Color's Fly Girls in the 90's. "They have such conviction and belief in themselves but they're really bad. … Still, you gotta give it to them because not everybody has the audacity to reach for their dreams."
The Ritz, now playing at Studio 54, Tuesday-Saturday evenings at 8 p.m., and Wednesday, Saturday and Sunday at 2 p.m. Tickets: 212-719-1300 and www.roundabouttheatre.org.