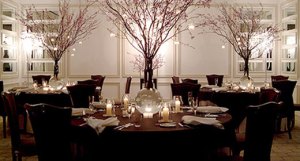 SERVICE INCLUDED: FOUR-STAR SECRETS OF AN EAVESDROPPING WAITER
By Phoebe Damrosch
Morrow, 228 pages, $24.95
Phoebe Damrosch (or her publisher) tries to serve her cake and eat it too by positioning Service Included: Four-Star Secrets of an Eavesdropping Waiter as a devil-wears-a-toque memoir about working in the dining room at Thomas Keller's Per Se in the Time Warner Center, where the menu features precious delicacies like torchon of foie gras with spiced winter fruits.
"May contain material offensive to Republicans, vegans, pharmaceutical lobbyists, and those on a low-sodium diet," Ms. Damrosch—who rose from backserver to become the ultra-swank restaurant's only female captain—cautions tantalizingly in her introduction.
But only the highly sensitive could be offended by this tame tell-all. The "eavesdropping" promised in the subtitle angles not to pick up juicy tidbits of conversation, but to serve customers better. One example Ms. Damrosch offers: If as she poured water she overheard a guest mentioning a preference for fruit over chocolate, she was to report it to the table's captain, who would switch the diner's dessert on the tasting menu.
There's also plenty of swooning over Ms. Damrosch's love interest, André the sommelier, and over New York Times critic Frank Bruni, whom she served four separate times, only to be dismissed in his four-star review because "the vigilant staff repeatedly recognized me and kept a special watch over my table."
This lack of bite means the book misses the chance to stand as a front-of-the-house version of visceral restaurant kitchen exposés like Bill Buford's Heat and Anthony Bourdain's Kitchen Confidential. Instead, Service Included will appeal most to the already indoctrinated, meaning fellow high-end restaurant workers, culinary students and foodies with a fierce interest in fine dining. (Even they, however, are likely to cringe at the condescending "Tips" at the end of each chapter that run along the duh-inducing lines of "Don't send something back after eating most of it.")
With her pleasantly light tone, Ms. Damrosch affords a wide view of the enormous amount of work that goes into opening a restaurant of Per Se's caliber. Staff education covered esoteric topics such as "wild mushrooms, the difference between Iranian and Russian caviar, and the ideal brewing techniques for black, green, and white tea." Ms. Damrosch depicts these efforts so well that when a fire breaks out early on and firefighters have to chop up a $250,000 stove to extinguish it, readers feel Thomas Keller's pain.
And Ms. Damrosch does dish a little about customers, though no names are named. Even the supposed bad behavior tends to the mild—think old men nodding off over glasses of Madeira—with the exception of one longtime customer's delighted description of the "new thing" in scatological sex play. In the same chapter, Ms. Damrosch offers a field guide to celebrities: "On the whole, celebrities seem to have a large cranium—literally big heads." But which large-skulled star prompted this observation remains a mystery. As in the rest of this too-kind memoir, the dangled promise of gossip goes unfulfilled, leaving the reader hungry for something more flavorful.
Natalie Danford is the author of a novel, Inheritance (St. Martin's), and co-editor of the Best New American Voices series.