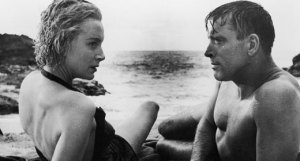 Deborah Kerr, who shared one of the most famous movie kisses with Burt Lancaster in From Here to Eternity in 1953, died from complications of Parkinson's Disease, according to her agent.
From The Daily Telegraph's obituary:
Kerr was the unfadingly ladylike and prototypical English rose whose red-haired, angular beauty and self-possessed femininity distinguished more than 50 films in four decades of cinema.
She made serenity dramatic; and though her poise might be ruffled at critical moments in scenes of passion (most famously exemplified by her encounter on the beach with Burt Lancaster in From Here to Eternity in 1953), her well-bred airs and social graces made her a model of British womanhood in Hollywood.
Her best-known film was probably The King and I, in which she played a haughty governess opposite Yul Brynner's Siamese monarch; and her principal problem as an accomplished actress was to convince Hollywood of her sensual potential. Although she herself was a more spirited, relaxed and informal person than her image on the screen suggested, producers were reluctant to cast her in passionate roles.
Nevertheless, when they came her way – as they did after From Here to Eternity – her type of refined sensuality proved refreshingly attractive, since it hinted at hidden desires and forbidden feelings, giving her acting an extra edge and interest.
If she still looked more at ease on screen as a nun than as a nymphomaniac, or as a governess rather than a seductress, Deborah Kerr loved to hint at what she called "banked fires", the volcano steaming away beneath the ice cap. And though she used merrily to deny that in younger days she had tried to seduce one of her old co-stars, Stewart Granger, in the back of a London cab (as he asserted in his autobiography), it was the contrast between her very British gentility and her sexual vulnerability that often gave her screen persona its savour.