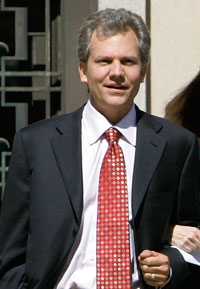 So how bad is it that Morgan Stanley sold its 7.2 percent ownership stake in The New York Times Company? Not as bad as it sounds.
"Believe me, Arthur Sulzberger won't be losing sleep over this," said Edward Atorino, a media analyst at The Benchmark Company.
"Everyone on Wall Street knows that Morgan Stanley made a futile effort to affect some changes at The New York Times. They sold this stock at a big loss."
Morgan Stanley bought into the Times in 1996 and has been critical of the company's dual-class share structure where investors like Morgan Stanley can gobble up most of the Class A shares, but the Sulzberger family calls most of the shots.
Mr. Atorino said Morgan Stanley's decision won't really hurt The Times—if anything it's probably a relief.
"Morgan Stanley didn't care about the editorial base, they just cared that the stock number went up," he explained. "I have a feeling Arthur isn't worried about this."