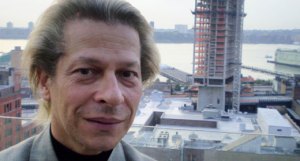 When developer André Balazs opens his swanky new 344-room Standard hotel on West 13th Street next year, his guests will enjoy some striking views.
They can peer out to the west and watch luxury cruise liners float down the Hudson River.
They can gaze down below at the lush foliage and scenic overlooks of the city's elevated High Line Park, also slated to open in 2008.
And, upon glimpsing the building adjacent to the park below, some lodgers may stare and wonder: Who is that odd fellow prancing around his junk-strewn patio, blasting a geyser stream of water high into the air from the tip of his arrow-shaped keytar?
The hotel's flamboyant neighbor is Jerry Lewis (a.k.a. "Novac") Noury, a 61-year-old disco-era dinosaur whose perhaps biggest claim to fame is inventing the liquid-spewing, shoulder-slung electric organ, with which he soaked so many clubgoers at Studio 54 and other venues in the late 1970's and early 1980's.
"This is me at the grand opening of Xenon," Mr. Noury said on the roof of the Hotel Gansevoort, showing off an old photo of his younger self showering some disco diva with his gushing instrument. "As you can see, a female is uninhibitedly reacting to the keyboard, as the keyboard attracts many females—and males, in that era."
Even today, he'll whip it out on special occasions, though Mr. Noury now does most of his spouting on the subject of neighborhood development.
He's railed against the Standard's construction: the constant ground-level drilling causing cracks in his own modest three-story building at 51 Little West 12th Street, which he's owned since the mid-1980's; the work high above raining debris all over his second-floor terrace.
Lately, though, much of his rhetoric has been directed at the neighboring High Line project and what Mr. Noury sees as its glaring vulnerability to disaster.
"The High Line is not your typical park—it's 25 feet above ground," he said of the planned 1.5-mile-long open space atop the old elevated train tracks. Yet, a map of the first phase of the park development, stretching several blocks from Gansevoort Street to West 20th Street, shows only five exit points.
What happens in the event of an emergency?
"You're going to have a stampede," Mr. Noury ominously predicted. "The High Line lacks staircases like the Titanic lacked lifeboats."
Not to come off like a complete doomsayer, however, Mr. Noury has also positioned himself to assume the role of savior, offering to build a so-called "Stairway to High Line," connecting pedestrians on the raised park to safe ground via his own patio. The proposed structure would act as a sort of drawbridge-style escape route. "There will be a Parks Department representative, or my representative, that will use an old hand crank to bring the bridge up and down," he explained to The Observer.
THE CREATOR OF the spurting keyboard, it turns out, is full of big ideas like this. In fact, when representatives of Mr. Balazs came to him with a buyout offer many months ago, the entrenched owner countered with a vastly different proposal: Let's be partners!
"I want to build a mini-inn with three restaurants," Mr. Noury said. "As of right, I can build 13,000 square feet, a hundred feet tall," he added. "That's 10 stories." Among the many far-out components to Mr. Noury's "mini-inn" plan, he spoke of equipping the place with solar panels, a waterfall and a stem cell research center.