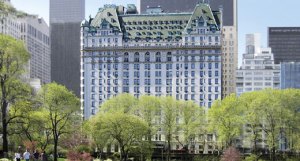 According to city records filed today, a buyer named Kraft Plaza LLC just forked over $14,477,211 (plus 59 cents) for an eleventh floor apartment at The Plaza.
Who's the actual buyer? It's not hard to guess, considering the appearance of "Kraft" in the corporation name, and considering that the corporation's address is "1 Patriot Place" in Foxborough, Mass., and considering that the Post long-ago reported that New England Patriots owner Robert Kraft would be buying a condo at the 100-year-old hotel.
Hilariously, this adds another layer to the endlessly rich Russian subplot at the Plaza. As the Post wrote: "Kraft presented Russian President Vladimir Putin with his diamond-encrusted 2005 Super Bowl ring during a meeting with U.S. business executives, so the fomer KGB head might be a frequent visitor (wink, wink) on Fifth Avenue."
So if you're keeping score at home, that means the Plaza now officially has two big Putin pals, plus two serious enemies of the Russian state.