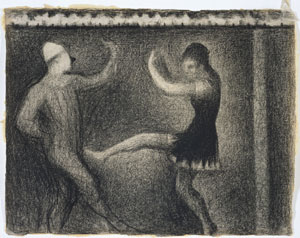 The drawings of the Neo-Impressionist painter Georges Pierre Seurat (1859-1891), subject of an exhibition at the Museum of Modern Art, have been called "the most beautiful painter's drawings in existence." There are a lot of drawings in existence; you'd think critical prudence would prevent that kind of hyperbole.
Truth to tell, not a few observers, laymen and aficionados alike, will come to the same conclusion. The painter Bridget Riley claims Seurat's drawings as among "the great mysteries and delights of being alive." Given the exquisitely honed evidence at MoMA, who could argue with her?
Seurat is, of course, the primary exemplar and practitioner of Pointillism, in which images coalesce through the deliberate application of innumerable dabs and dots of paint. Pointillist pictures buzz and skitter with color, light and touch, and are marked by patient and uniform surfaces. Few styles announce their making with as much clear-cut intensity.
In a mild way, Seurat could be considered a conceptual artist: Aiming to anchor his vision to, in his words, "the strict application of scientific principles," Seurat looked to the investigations into color conducted by art theorist Charles Blanc, physicist Ogden Rood and chemist Michel-Eugène Chevreul.
Chevreul noted how the contrast and juxtaposition of colors created a different color or a richer variant. (This discovery was spurred by his work in restoring Renaissance tapestries.) Color was mixed by the eye; the painter's reponsibility was to be true to this phenomenon.
Seurat's strict approach to paint-handling was offset by the superimposition of classical structures upon contemporary settings—public gardens, theater and the like. A highly eccentric and, in its own way, social art was the result.
You can see Seurat refining his fascinations in the drawings. There are studies for individual characters from A Sunday on La Grande Jatte—1884 (1884-1886): The elegantly attenuated woman carrying an umbrella, the sniffing dog and a descending array of trees. There's a close-up of the shouting boy from Bathers at Asnières (1884). And you'll see the trombonist, with his odd jut of the hips, who is prominently featured in the Met's Circus Sideshow (1887-1888).
But Seurat the draftsman isn't the same artist as Seurat the painter. The difference between them can, to an extent, be attributed to the distinctions inherent to each medium. Seurat was forthright when working on paper and studied when applying oils to canvas. These characteristics are what we'd expect from these respective modes of working. But Seurat's drawings are something altogether different from the paintings, and maybe something more. In the drawings, the romantic overthrows the scientist.
Is there another draftsman whose hand moved with such sensitivity, grace and clarity? Technically, you can explain it. Curator Jodi Hauptman points to the importance of a paper's tooth; the layering of conté; the varying pressures of the hand; and a bare-bones chiaroscuro. But in doing so she glances beyond the practical: Ms. Hauptman likens Seurat's process to "stroking." She's right to do so. Tenderness defines the drawings and a mystical light engulfs them. Seurat, in this instance, resembles no one so much as Odilon Redon.
Forms are distinct, though not tangible, and are limned in a manner both glacial in slowness and brief in description. Particularly astonishing is Seated Woman with a Parasol (Study for La Grande Jatte) (1884-1885) and an attendant drawing, Young Woman (1884-1885). In each case, the title figure's silhouette is brought into fruition with minimal means—a blunt and steady sweep of marks, thickening here, airy there. The surrounding light conjured from the paper's uninflected surface is blinding, but also velvety and, one likes to think, beneficent. Much is elicited from almost nothing. These are drawings that make the heart beat faster.
The work's grainy materiality—Seurat's hand is unapologetically there—is put in the service of the ineffable. An enveloping, ghostly ambiance puts us at a polite distance, even when the drawings surreptitiously engage us as voyeurs.
At times, they threaten. The mob of hatted men in High C and At the Concert Parisien (both 1887-1888) are transformed into a blur of automatons. We don't see their faces; only the backs of their heads. Their unseemly and possibly dangerous intentions are clear all the same. Seurat makes us part of the mob.
At other moments, small gestures connote large consequences and—something we don't necessarily associate with Seurat—encompassing emotions. The way in which the crook of a back slopes into a tilted head, as in Standing Woman (c. 1882), encapsulates almost unspeakable melancholy. When one figure places his hand on the shoulder of another in Two Clowns (Study for Parade) (1886-1888), we feel that a grave bargain has been struck. Narrative slips into Seurat's drawings as stealthily as the light in which they're bathed.
The places and people in Seurat's drawings are trapped in quietude. The pictures evoke half-remembered memories and flit by just as quickly, all the while remaining as monumental and solid as a frieze from the Parthenon. Ms. Hauptman likens Seurat's "silence" to Vermeer's and, via Susan Sontag, to Harpo Marx's. The eternally suspended voice of the singer in Eden Concert (1886-1887) and the haunting The Echo (study for Bathers at Asnières) (1883-1884) are particularly unsettling because sound is their subject.
I suspect visitors to MoMA will be hushed—the drawings, with their gracious and otherworldly portent, earn our awe; their magic is real.To stand in front of a Seurat drawing is to believe there's nothing else in the world worth looking at.
Georges Seurat: The Drawings is at the Museum of Modern Art, 11 West 53rd Street, until Jan. 7.