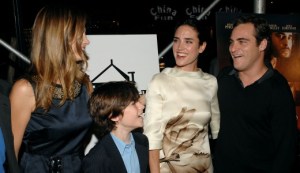 Jennifer Connolly hardly looked matronly in her white Versace shift dress and sky-high patent-leather Christian Louboutin pumps, but her two kids were on her mind as she tripped up the red carpet at the Upper East Side premiere for Reservation Road, the harrowing new drama by Terry George of Hotel Rwanda fame.
"Consciously, I really strive not to bring my work home with me, especially on a project like this," she said of her time working on the film, in which a father (Joaquin Phoenix) becomes overtaken with his quest to find the man who killed his son in a hit-and-run accident.
"So much of who I am is about being a mom and my children and my love for my children, and it so much defines me as a person," Ms. Connelly said. But: "I think it's impossible to escape entirely."
Terry George knows a bit about making movies you wouldn't want to be thinking about all day, too.
"You have to turn off," he said.
Mr. George's storytelling style has a journalistic feel, and in fact, he revealed, he was one once, before he got into the movie business.
"I worked for New York magazine!" he exclaimed. "I was a fact-checker!"
He remembered one event that put him in touch with the reigning titan of New York media.
"I feel these executives stepping over me," he said. "I turn around and look up and there's Rupert Murdoch stepping over to go into the executive office," he said. "One of my biggest regrets is that I didn't bite his balls off then, you know?"