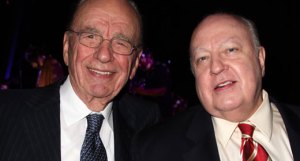 On Wednesday night, a little after 7 pm, deep in the labyrinth that is the Metropolitan Museum of Art, past the line of photographers in the lobby, past the medieval statues of the Virgin Mary, past a mummy or two, and past a temporary installation that spelled out "Fox Business" in big block letters made, ostensibly, of green shrubbery, Regis Philbin gave Roger Ailes a hug.
"This guy is famous in Ohio," said Mr. Philbin, oddly.
NYTV moved in and shook hands.
Mr. Ailes asked good-naturedly if NYTV had written anything critical of Fox or Mr. Philbin, recently. Mr. Philbin fielded the question. "He writes something critical of me," said Mr. Philbin, "at least once a month." An exaggeration!
Everyone smiled.
We were there to celebrate the launch of Rupert Murdoch's latest media venture—the Fox Business Network. And so, a few feet away, alongside a makeshift bar, Mel Brooks was struggling to get Mr. Murdoch's attention. He had taken a bad angle. Only Mr. Murdoch's back was available. Mr. Brooks waited patiently. At last, the Media Mogul from Down Under shifted positions. Mr. Brooks moved in and put his hand around the back of Mr. Murdoch's head. "Congratulations," said Mr. Brooks.
He wasnt alone. In the large space surrounding the Temple of Dendur, (lit up festively in orange and blue lights for the occasion) a crowd of media, television, and business elites slurped down drinks, and formed a congratulatory conga line, leading up to Mr. Murdoch near the bar.
Nearby, Harvey Weinstein eyed the room. Oscar De La Renta kissed a woman on her cheek. New Fox star Alexis Glick circulated, shaking hands. Lloyd Grove hovered.
Half an hour later, Mr. Ailes, sporting a dark suit and a red tie with white slanted stripes, took the stage.
"Some of you are wondering why we are in the Temple of Dendur," said Mr. Ailes. "So am I. Actually the temple was built in 15 BC by Emperor Augustus of Rome, sort of the Rupert Murdoch of his day. I said to Rupert, we're having an opening party at the Temple of Dendur. He said, Good I like that place. Is it for sale?"
The crowd chuckled.
"Rupert Murdoch is so casual. One day he said to me, you know CNBC needs competition," recalled Mr. Ailes. "I said, uh oh, here we go. Because I was around when he said CNN needed some competition. And I was around when he said, I really like The Wall Street Journal, it's a great paper. So if you're ever around Rupert and you hear these kind of casual comments, pretend you don't hear them because otherwise you're going to be working very hard."
Mr. Ailes then ceded the spotlight to Mr. Murdoch, calling him the "greatest media visionary of all time."
Mr. Murdoch, dressed in a pin striped suit, and a dark necktie with white dots, stepped to the podium. "It's been a brilliant first nine days," said Mr. Murdoch. "It's been distinctive, it's been informative, it's been noisy. It's business news that grabs your attention and keeps it, whether you're a CEO or a small business owner. That's the brilliance of Roger Ailes."
Mr. Murdoch spoke optimistically of the "triumphs of the free markets" on a global scale.""In this country we have the best-run, the most corruption-free companies in the world," he said. "Our companies have the kind of success and variety that the rest of the world looks to. Not that you would know that from much of the business coverage we see every day."
He said that the Fox Business Network would cover the "scandals and failures," that would come along now and then and would be "just as tough as anyone protecting investors."
"But my hope for Fox Business is that it will also find time to celebrate the freedom and sense of optimism and daring that free markets have given Americans."
The crowd applauded, and the party continued.
Around 8:30 or so, the Counting Crows took the stage. As they wailed through their first song, NYTV chatted with Cody Willard and Rebecca Gomez, hosts of Fox Business Network's evening talk show, Happy Hour, set in the Bull and Bear bar at the Waldorf Astoria.
The Counting Crows weren't the shaggy-haired Mr. Willard's scene. Instead, he launched into a story about seeing Kiss in concert. Twice, said Mr. Willard, he had dressed up as Gene Simmons for Halloween.
He said he was having a great time at the party. "I love the fact that you see a huge sign for Fox Business in front of the Egyptian temple. That puts some perspective on what the vision is, right? You have the greatest empire of all time, the Egyptian empire…" He paused. "What's the name of this place?"
Um, the Temple of Dendur.
Mr. Willard continued, unfazed. "That's what the vision is here," said Mr. Willard. "We're trying to take over the world."
He leaned back and smiled. "We're trying to take over the world!"