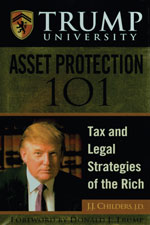 Like death and taxes, we will always have Donald Trump. His books, if not his buildings, assure him of a certain immortality.
Earlier this month, he dropped Think Big & Kick Ass in Business and Life. And, now, his Trump University has a new book out called Asset Protection 101: Tax and Legal Strategies of the Rich by attorney J.J. Childers (with a foreward by the Donald).
If you're keeping count, this is the fifth book in the Trump University series.