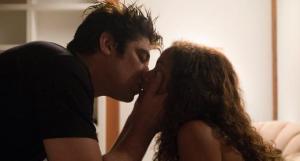 Fall is the season for 'quality' movies, the kinds of movies that make good showbiz at the Oscars. But that doesn't mean that fluffier stuff can't break out the box office: witness Tyler Perry's Why Did I Get Married, the No. 1 film last weekend over Elizabeth: The Golden Age (critics seem to agree that while Cate Blanchett is gorgeous, and so is the cinematography, it doesn't come close to the 1998 originator); the faux-Departed, We Own The Night, starring Mark "Marky Mark" Wahlberg, Joaquin Phoenix, and (ever-divine) Robert Duvall — we haven't seen it yet but are pretty sure we know absolutely everything that happens in it; the Clooney-fied Michael Clayton in wide-release; and the handful of cerebral quirky offerings like Lars and the Real Girl, Control (which seems to be getting a big publicity push thanks to the Harvey Weinstein machine), and emo-design-freak fave, Darjeeling Limited.
But that hasn't stopped the studios from dumping yet more of their Award Show Favorites on us this weekend. A little early to be thinking about the Oscars maybe? Never! It's been noted that more and more Oscar-type movies are being released in October rather than November and December, with the hope that Academy members will have time to watch (and remember!) the DVD before the onslaught of the rest of the heavy-hitters that will be coming in the next two months.
First up is Things We Lost in the Fire, the Halle Berry and Benicio Del Toro heart-wringer about coping with grief and addiction. The film is the first American feature from Danish director Susanne Bier, who directed the excellent 2006 movie After the Wedding—starring hunky Casino Royale eye-bleeding bad guy Mads Mikkelsen—which was nominated for a best foreign film Oscar last year.
Reviews thus far has been mixed, with most of the praise falling on Mr. Del Toro's restrained performance playing the heroin-addicted best friend of a man tragically murdered. (The dead husband is David Duchovny, a consistently likeable actors who doesn't get the kind of work he deserves.) When Mr. Del Toro's character moves into his widow's house, lots of Oscar-ready clips ensue.
In an unusual move that certainly means Fire's studio will be pushing hard for Academy recognition, Variety reported that DreamWorks-Paramount will be sending out 6,000 screeners to Oscar voters this weekend, instead of waiting a month or two after the release.
The aptly-named Terry Press, mastermind behind previous successful Oscar campaigns for Gladiator and American Beauty, is credited for the idea.
(They're not alone: Paramount is sending out screeners of David Fincher's Zodiac with an additional eight minutes of film.)
Another movie downer (sad means serious!) is this week's Reservation Road (not to be confused with Revolutionary Road, which we'll surely be talking about this time next year), about the consequences of a split-second accident that leaves one man grieving for his son, the other on a guilt-fueled run.
The movie-of-the-week plot might trap the talented cast into one-dimensional performances—Jennifer Connelly looks too extraneous, like she's channeling her character in House of Sand and Fog or A Beautiful Mind. Won't someone please cast Ms. Connelly in a romantic comedy?
Mark Ruffalo usually offers a dependable if predictably competent performance, but we're nervous about Joaquin Phoenix playing an emotionally reserved college professor. Can Joaquin play the "normal" guy, or do those crazy eyes, the ones that helped him so in Gladiator and Walk the Line disqualify him as Mr. Nice Suburban Daddy? But we're brightened a bit at the prospect of Mira Sorvino's return to the big screen–her role looks minor, though.
Gigli jokes aside, Gone, Baby Gone is also being presented as a "quality" movie, even though Ben Affleck co-wrote and directed the film. The beantowner has based it on another Denis Lehane novel (he was the author of Mystic River), and cast brother Casey Affleck, still riding high on positive notices for The Assassination of Jesse James by the Coward Robert Ford. Plot: Two Boston cops hunt for a kidnapped girl. Casey is joined by Michelle Monaghan, Morgan Freeman, Broadway star Amy Adams, and Ed Harris. Last Sunday's New York Times Magazine piece "Redemption Hunting" by Charles McGrath made note of Mr. Affleck's use of real live Bostonians instead of SAG extras; "what the viewer sees on the screen are often the sort of faces that seldom appear in the movies: people with the soggy, veiny look of alcoholism, the wary, defensive look bred by poverty and abuse, or the broad, toothy smiles that are a reminder of the city's Irish heritage." Oh, boy!
The most shocking part of all, is how much people seem to really like this movie, which should make Matt Damon very very nervous.
Other notable openings this weekend:
30 Days of Night: Vampire movie set in Alaska staring Josh Hartnett.
Redemption: Staring Reese Witherspoon and Jake Gyllenhaal (with supporting help from Meryl Streep and Alan Arkin), this film seems mostly known as being responsible for a Witherspoon/Gyllenhaal love match.
The Comebacks: Tom Brady, the guy who directed The Hot Chick, goes for an inspirational sports story aout the college football coach with the worst record in the history of sports.
O Jerusalem: Two friends, one Jewish American, the other Arab American, set during the 1948 founding of the state of Israel.
Wristcutters: A Love Story: Patrick Fugit (Almost Famous) is back, playing a heartbroken man trapped in a limbo world reserved for suicides. It's been kicking around since 2005, looking for release.