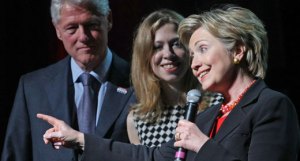 Jason Horowitz files this report on Hillary Clinton's birthday party at the Beacon last night.
What did Bill Clinton have to say about his now-60-year-old wife?
"In bringing her up here, I want to tell you something entirely different tonight, about her life, because I've seen it now for more than half of her life," he said. "She was just 23 when we met. Poor child didn't know better than to talk to me."
We think she knew just what she was doing. There was the predictable banter about Rudy Giuliani's Red Sox treason, and some political earnestness.
And there was, of course, Huma Abedin! "The Wallflowers did four songs and they were amazing," she told The Observer.
We'll update this post shortly with Jason's intel on the tight after-party at the Russian Tea Room.