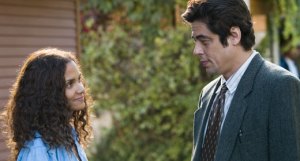 THINGS WE LOST IN THE FIRE
Running Time 118 minutes
Written by Allan Loeb
Directed by Susanne Blier
Starring Halle Berry, Benicio Del Toro and David Duchovny
Things We Lost in the Fire raises the level of grief, compassion for our fellow man, domestic issues and strong filmmaking to new heights of achievement; provides the always jolting Benicio Del Toro with one of his most sensitive roles; and finally gives Halle Berry her first decent part since Monster's Ball. A welcome relief from all the war and violence we've been getting lately, it's a wonderful, heartfelt experience, executed with meticulous principles and penetrating artistry.
Brian Burke (David Duchovny), a successful Seattle building developer and all-around nice guy goes out for ice cream, encounters a drunk beating his wife, intervenes with good intentions and gets killed in his efforts to play Good Samaritan. Left behind in various states of confusion and rage are his two children; his devastated wife, Audrey (Ms. Berry); and his best friend since childhood, a heroin addict less fortunate than Brian named Jerry (Mr. Del Toro, whose astonishing brilliance from scene to scene is unwavering). Audrey thinks Jerry is the worst thing that ever happened to her husband. She doesn't understand their enduring friendship and can scarcely summon the energy to even be civil. After the funeral, Jerry makes a vow to quit using and takes a job as a janitor in a methadone clinic. Audrey is unimpressed, but out of guilt and respect for her dead husband's loyalty to the disenfranchised Jerry, she rescues him and invites the homeless man to move into a spare room over the garage that was damaged in an electrical fire. Trying to make sense out of their empty lives, the widow and the recovering junkie help each other in unexpected ways. Jerry relapses; Audrey searches the dark and terrifying alleys and crack dens of Seattle she didn't even know existed, and eventually leads a stranger for whom she once had no respect along the path to rehabilitation. Sometimes there is redemption in the smallest things—teaching a child afraid of water to swim, reading a list of things lost in a fire that can jump-start a new way to start over. This is not a movie about big events, but small feelings that lead to self-discovery. Everyone learns to accept the good and the bad, the pain and the joy, one day at a time.
A touching, moment-to-moment screenplay by Allan Loeb and lovely, carefully observed direction by Susanne Blier make this Sam Mendes-produced drama as natural as inhaling. Without a stick of makeup, in off-the-rack clothes and hair that needs a steam iron, Halle Berry is still the epitome of beauty and grace. But it is Benicio Del Toro who shocks and enthralls. This character actor with pasty skin, bags under the eyes the size of teacups, and a face like a map of the San Jacinto Valley is always deeply committed, astonishing to look at and full of surprises, but in Things We Lost in the Fire he is a total revelation. His drug withdrawal scenes are truly harrowing and realistic, and the film gives him a rare opportunity to be tough, sensitive, vulnerable and manly at the same time. Admirably, the movie does not plunge its two disparate leading characters into a phony romance; the love is between people brought together by fate who learn to help each other. The emotional optimism it generously conveys is hugely rewarding.