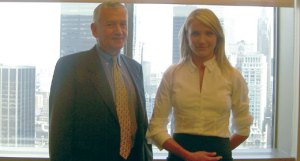 Founded in 1792, Cadwalader, Wickersham & Taft is "the oldest continuing Wall Street law practice in the United States," as its website proudly notes. Name partner George Wickersham was attorney general under President Taft, and name partner Henry Taft was the president's brother. In addition to being one of New York's oldest firms, Cadwalader is also one of the most lucrative. Last year, it was the city's third-most-profitable law firm, behind perennial leaders Wachtell and Cravath.
But in the past few months, CWT has hosted some rather surprising visitors—at least by the standards of a prestigious, white-shoe law firm.
THE FIRST ARRIVALS descended upon the firm in June. They were little, pesky and unwanted. In an officewide e-mail, firm chairman Robert Link warned that they "can cause uncomfortable itching," and you can ascertain their presence by "the waste material left behind that is either a dark brown or reddish color."
Summer associates, back from a long lunch at Tabla? No, these beings were even more annoying: bedbugs. As Mr. Link explained in his e-mail, "there [have] been reports of bed bugs in the Word Processing Department on the 33rd floor. … The individual who we believe brought the insects into the firm came forward … and is no longer associated with the firm." That'll teach them to self-report!
Associates at Cadwalader were unfazed by the bedbug outbreak. "I don't think anyone's ever been seriously worried about it," said one associate.
But on AboveTheLaw.com, the online legal tabloid I edit, anonymous commenters could not suppress their schadenfreude. One wrote: "The bugs were probably from the sleeping bag of a poor associate who brought it to his office so he could bill those 120 hours a week … and now he's fired. Haha."
(A few months later, a lone bedbug showed up on the 20th floor. In an officewide e-mail—this one protected against forwarding, printing or copying—the firm confidently asserted that there was no connection between this insect interloper and the earlier infestation.)
THE BEDBUGS WERE followed, a few months later, by a somewhat more advanced life form: celebrities. One Thursday in September, Cameron Diaz came to Cadwalader. A film crew took over a 39th-floor conference room, with sweeping views of Lower Manhattan, to shoot What Happens in Vegas, a romantic comedy scheduled for release next year.
Some hoped to see Ms. Diaz's co-star, Ashton Kutcher, in the building as well. But the filming fell during Rosh Hashanah, which Mr. Kutcher spent observing with wife Demi Moore. Seekers of male Hollywood heartthrobs at Cadwalader had to settle for the consolation prize of Dennis Farina.
The firm, known more for its top-notch securitization practice than for entertainment law, was somewhat star-struck by Ms. Diaz. When she expressed a willingness to meet and have pictures taken with Cadwalader lawyers, there was no shortage of takers. But in the end, for various reasons, only one lawyer was so lucky: partner Gregory Markel, chairman of the litigation department.
The two were photographed standing awkwardly in front of a conference room window, Ms. Diaz looking like a summer associate with her partner mentor. One associate noted, "She's also holding her stomach in a weird way!" Was it something Ms. Diaz ate, maybe from the Cadwalader cafeteria?
(Earlier this year, the cafeteria introduced sushi, prepared by an on-site chef. "He wears the hat and everything!" gushed one satisfied customer.)
"The word is that Greg is quite proud of his moment with Cameron," said an associate. But when asked about his encounter with Ms. Diaz, Mr. Markel hardly sounded giddy. "It was very brief," he said, "a very down-to-earth, normal conversation. She seemed very pleasant and bright and alert."
(Bright and alert? Quick, put on her document review! But at $15 million per picture, she's almost 100 times as expensive as a first-year associate.)
Rumor had it that Mr. Markel was not familiar with Ms. Diaz prior to their meeting. True?
"I was exaggerating for humor in the hallway with one of my partners," said Mr. Markel. "I happened to mention to him that I was going upstairs to meet Cameron Diaz, and I said jokingly, 'I don't even know who she is.'"
But Mr. Markel actually had some familiarity with the Diaz oeuvre. "I saw that movie—All About Mary, Something About Mary? And I may have seen a couple of other movies of hers over time.
"On the other hand, and maybe this just happens to be me, I'm much more interested in the film than the stars," said the prominent Yale-educated securities litigator. "When I look for a movie, my tendency is to focus more on the topic of the movie and who the director is, rather than the stars or the glitter."
Other firm personnel, with more of a weakness for glitter, tried to engineer a brush with celebrity. Several paralegals camped out on the 39th floor in the hopes of catching a glimpse of the blond beauty, but to no avail.
Did the firm get paid for the use of its space? In 2006, Cadwalader's profits per partner fell just shy of $3 million. Could renting out its offices to film production crews make up the difference? "The firm receives some nominal compensation," said Mr. Markel. "We certainly don't do this as a significant source of revenue."
Sorry, associates—keep those billables up!
CAMERON DIAZ MAY HAVE left the building, but another unusual visitor remains. He's been spotted regularly in the elevators at One World Financial Center, to widespread puzzlement and amusement. They call him the Pimp.
"Everyone has seen him," said an associate. "Today he was wearing a purple suit with matching purple leather shoes. The suit was shiny." The jacket was long, down to his knees, with wide purple stripes that looked like furniture upholstery. On a prior occasion, he was spotted in a zebra hat, holding a round-topped cane.
"When I told a paralegal friend that I saw a pimp," said this associate, "she's like, 'Oh, yeah, I see him all the time.' Then we went to her office, and she said to her officemate, 'Hey, have you seen that pimp?' And her officemate's like, 'Oh, yeah, of course, he wears, like, shiny suits in bright colors,' and then my friend says, 'Yeah—he wears clothes LIKE A PIMP!"
(When pressed for details about his appearance rather than his attire, the associate couldn't recall much. "I was scared to look him in the face.")
What business brings the Pimp to the building—which, for the record, has tenants other than Cadwalader—remains a mystery. The associate wondered: "Is he a client? Does he have his own practice? Who the hell is he?"
Big Law makes for strange bedfellows: bedbugs, Cameron Diaz, and the Pimp. As someone familiar with hourly billing, he should feel at home with a bunch of lawyers—as soon as he trades in his purple shoes for some white ones.