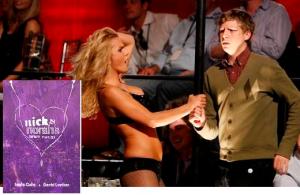 If you're a "goth type," a "rock 'n' roller" or self-confessed "hipster?"
Maybe you can share the screen with Michael Cera of Superbad and Arrested Development fame!
His next movie is Nick & Norah's Infinite Playlist, and on Saturday the producers of the new indie flick will be casting extras at the Church of St. Paul and St. Andrew on the Upper West Side.
Kristian Sorge, aka thepunkguy, posted the casting call on his blog this week, and apparently the film will be shot later this month through December "in many real NYC locations and featuring real NYC indie rock bands."
Nick & Norah is based on the teen book written by Rachel Cohn and David Levithan, released by Random House in August.
Mr. Cera will play Nick, a "nonqueer bassist of a queercore band," while Norah, played by Kat Dennings from 40 Year Old Virgin, is the straight-edge daughter of a New York City record executive. They meet at a Manhattan punk club, Crazy Lou (ahem, CBGB's?) and Nick kisses Norah to hide from his ex-girlfriend.
The smooch sparks a puppy-love crush between the hormone-filled teens and sends them into a lusty night of music and making out.
The movie is set to be directed by Brooklyn native Peter Sollett, who won the best short film prize at both the Sundance and Cannes Film Festivals in 2000 for Five Feet High and Rising (view it here). It would be the inspiration for his feature about coming of age in New York City, Raising Victor Vargas.
Here's the full text of the casting call:
Playlist, LLC is holding an open call for SAG & NON SAG background performers for "Nick and Norah's Infinite Playlist" a feature film starring Michael Cera "Arrested Development, Superbad" and Kat Dennings "40 Year Old Virgin" also featuring many musicians and rock bands. This film is very detailed and there are many restaurant, concert, street scenes, etc. taking place in every part of Manhattan. We are seeking very specific types and are recommending that performers arrive at the open call in wardrobe with your hair & makeup reflecting the particular type you are submitting for (no wardrobe allowances will be paid for open calls). The following are the types we are seeking: young men and women (to play 18 – 30) to play punk rockers, rock n' rollers, goth types, hipsters, indie rockers and any alternative music fan. (Mohawks, piercings, liberty spikes, tattoos are all plus!) The film will be shooting late October through early- December. The open call will be held on Saturday, October 20th, 2007. The Church of St. Paul & St. Andrew, 263 West 86th St. (between B'way and West End), NY NY 10024. SAG to be seen 10am-12:30pm; Non-SAG 1pm-4pm. If you are unable to attend the open call please email us a picture & your contact info to nickandnorah(at)gmail.com (SUBJECT LINE: THEPUNKGUY POSTING) or mail a hard copy and a current snapshot to "Nick & Norah's Infinite Playlist"c/o KAS Studios, 34-12 36th St. Astoria, NY 11106. Attn: THEPUNKGUY.