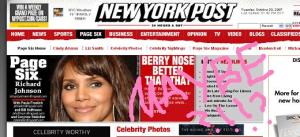 Yesterday's news that Us Weekly blogger Noelle Hancock (a former Observer staffer) is jumping ship to the soon-to-relaunch PageSix.com got us thinking about what the Post's plans are for the new Web site. (We understand that the Post—through photo editor Dave Boyle; not Page Six editor Richard Johnson—has made offers to at least five Us staffers, though Ms. Hancock is the only one to jump ship thus far.) Gawker reported that the site is trying to staff up, especially on the West Coast, where TMZ currently has a stranglehold on the minutiae of what goes down every night at Les Deux.
However! A quick glance at the Nielsen/NetRatings stats for the past three months shows that the only site that's shown growth is People.com, which had 6.5 million unique U.S. visitors in September, up by more than 1.5 million since July. TMZ's growth appears to have stagnated in the same time period, though that site's traffic still dwarves People's: In July, TMZ recorded nearly 10.3 million visitors, which dipped to 9.4 million in August and jumped back up to July levels in September. By contrast, UsMagazine.com's traffic has stagnated at around the 1 million mark since July, and Perez Hilton's uniques have gone from 2.4 million in July to 2.2 million in September.
Taken together, the numbers point to what can only be a worrying trend for celebrity news and gossip sites: there is, perhaps, some audience fatigue. TMZ recently laid off one of its New York-based staffers, who was writing for the Web site; this staffer was told that the site was restructuring. Of course, TMZ also has its own successful venture in TMZ TV, for which Web site managing editor Harvey Levin serves as executive producer. Mr. Levin created the tabloid TV show Celebrity Justice in 2002, and some have speculated that since the show was canceled in 2005, Mr. Levin has been plotting his triumphant return to tabloid TV—an outlet that is ultimately much more lucrative than a Web site. Still, a TMZ spokeswoman told us that both the TV show and the website will continue moving "full steam ahead" for the foreseeable future.
Mr. Levin told Media Mob, "Page Six is a force in this genre. There's plenty of interest in the material and room for more successful ventures." Sure there is!
A Post spokesman said he would have no comment about the paper's plans for the Web site.
The relaunch of PageSix.com is just the latest brand extension of the Post's namesake gossip column—Page Six Magazine launched in September—and others in the industry are wondering whether the paper is spreading itself too thin.
"I think you take one look at [Page Six Magazine] and you realize their ability to expand beyond the column is probably not as much of an imminent threat as one might think," said an editor at a competitor. Page Six head Johnson does not oversee the magazine and, sources say, will also not be in charge of the website. After last week—when Johnson threatened New York magazine writer Vanessa Grigoriadis with rape for daring to write that his column had been "emasculated"—that might not be such a bad thing. After all, this brand extension could be the Post's way of insuring that Page Six will go on, even if the currently embattled Mr. Johnson leaves the paper.
Whether the site will actually make an impact in the gossip landscape, however, is still an open question. For a site that's long relied on a network of tipsters and cozy relationships with P.R. executives eager to get their clients' names in the column, the new, cutthroat brand of celebrity gossip must have come as a bit of a shock to the system—and it's clear that the paper is still figuring out how to deal with it.