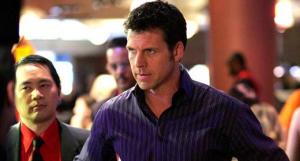 From Variety:
CBS is singing the blues over "Viva Laughlin," which has been officially canceled after just two episodes.
Emmy winner "The Amazing Race" will take "Laughlin's" place in the Sunday 8 p.m. slot – where the reality show resided last year – effective Nov. 4. A repeat "CSI" will run in the time period next week.
"Laughlin" becomes this season's first scripted series casualty. Eye initially had high hopes for "Laughlin," starting with the imprint of exec producer Hugh Jackman. Show was based on the hit BBC series "Viva Blackpool," about a gambler who opens a casino but winds up in the middle of a murder investigation. The series repped part of the net's attempt to create some buzz with shows that weren't CBS' normal fare. In this case, "Laughlin" included characters that sang (and sometime danced) along to hit songs to advance the plot.