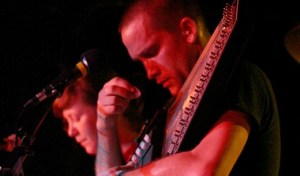 Ah, yes. The CMJ Music Marathon has arrived. The hype machines have been churning their sprockets at full speed this past month, leading up to the week-long festival, which will showcase 1,000 bands. The festival offers music labels and industry suits a glimpse at the new crop of young talent, although it's more of a hipster scene and an excuse to drink at 2 p.m. than anything else these days.
According to The New York Times,
Though it once had a reputation as an event to make or break major deals, now CMJ is more about networking and building awareness and community, said Adam Shore, the general manager of Vice Records. "Whereas maybe the focus before was to get record labels to notice you, now it's to get management and booking agents and other areas" like television licensing and marketing ventures, he said.
For people in the industry, attending is "due diligence," said Amrit Singh, the associate editor in chief at the Stereogum.com music blog. Mr. Singh, who expects to see more than 100 bands, considers it a way for everybody to catch up. "If you play a really good set and the right people are in attendance, the Internet ends up being this hall of mirrors," exponentially expanding the buzz, he said. "And with so much of the music industry moving to a model where live music is going to be a revenue source, and possibly an exclusive revenue source, people will look at that."
We're excited to check out new bands like No Age and Xiu Xiu as much as the next Converse-wearing music nerd. But we also sympathize with James Montgomery at MTV.com, who wrote:
I listen as people with better haircuts than me extol the virtues of bands like Professor Murder or Jay Reatard ("He doesn't even have an album out yet!") and tell me why I should no longer care about White Rabbits but should definitely be on the lookout for British Sea Power's comeback. I am told about the "buzz" being generated by the Black Kids, who sound like the Cure (but, you know, not as good as the Cure) and don't have an album out yet. And, of course, at the end of each meeting, I find myself still not caring. In fact, I probably care even less. And this is not good.
It worries me because I don't want to be the dude who's out of touch … but at the same time, I have a hard time not thinking the entire mechanism that supports these bands — the never-ending cycle of style-over-substance and "I heard 'em first" that manifests itself in immeasurable qualities like "blog buzz" — is beyond ridiculous. I firmly believe that the people manning the hype machines are bad, and the people buying the hype are even worse. Perhaps this makes me obsolete, or close-minded, or just plain old. But perhaps I don't care.
We care slightly more than Montgomery, if only to give you a list of our CMJ picks every afternoon for the next day's activities.
Read on for Tuesday's picks.
And, hey, if you miss anything, NPR.org is live-streaming some of the concerts, so check that out.
At 2 p.m., start out with Punk's Still Not Dead, a panel discussion with Sylvain Sylvain of the New York Dolls, Richard Lloyf of Television, Jonathan Anastas of Slapshot and other industry types at the Kimmel Center's Eisner & Lubin Auditorium at 60 Washington Square South.
Here's the description, according to CMJ:
Now fueled with new wave and dance elements, punk has returned to the American popular consciousness once again. What does it mean to the old schoolers who started the genre? Do these new hybrid punk artists have the right to play this music? Is the attitude of today's hip hop/dance/rock punkers really punk rock?
Break out the hoodies and Doc Martens for this one! Pop punk fogies and Jersey teens will flock to Webster Hall at 6:30 for the Bouncing Souls, Lifetime, Modern Life is War and The Low Budgets (ex-Dead Milkmen). We'll be getting crushed in the front row, requesting Kate is Great and Dwell.
If you're too overwhelmed by the bomber jackets and fashionable haircuts, try the Celebration, Dragons of Zynth, Tall Firs and Effi Briest show at Union Pool. Three-piece band Celebration are bffs with TV on the Radio and make lush Moog-infused music while NYC-based Dragons of Zynth are known for their wild and crazy live shows.
At 10 p.m., get your dose of hip-hop classics twisted into a new style by Chicago's The Cool Kids at 205 Chrystie (Listen to "88" on their MySpace and just try to resist getting down at your cubicle). Cosmo Baker will be DJing, and yes that's his real name. Check out his "Papa Was A Rolling Stone" remix for your listening pleasure.