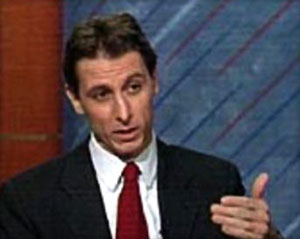 "I was not in journalism," said Alexis Debat. "I was never a journalist. I was a consultant doing journalism."
It was Monday morning around noon, and Mr. Debat—a former ABC terrorism consultant who gained brief notoriety in September for putting his name to apparently fake interviews with prominent political figures—was on the phone with NYTV from Washington, D.C. "I don't want to be a journalist," he added.
The feeling is probably mutual. Journalism no longer wants Debat. But for the time being Mr. Debat's departure from the grand stage of network TV consulting will continue to be viewed through the gaze of journalistic standards.
In September, a French publication, Rue89, reported that Alexis Debat, a French-born scholar of the Middle East who had recently been employed by ABC News—and appeared onscreen for the network—as a "terrorism consultant" had faked an interview with Senator Barack Obama in the French journal Politique Internationale. Subsequent inquiries revealed a slew of other cooked pieces carrying Mr. Debat's byline, including phony sit-downs with President Clinton, Bill Gates, and Michael Bloomberg.
Amid the growing scandal, ABC News announced that Mr. Debat had resigned months earlier when questions were raised about credentials listed on his résumé. A full investigation of Mr. Debat's work, they promised, was under way.
Now that investigation is complete. In a memo leaked by ABC News to the press last week, the network's president, David Westin, wrote: "After going through all of the stories Mr. Debat worked on for ABC News, we found no instances of false reporting."
Mr. Debat, for one, is satisfied with their findings. He said he felt cautiously pleased for himself and for his former colleagues. "I'm very happy that their collective reputation is salvaged," said Mr. Debat.
Others are less convinced.
NYTV has learned that one part of Mr. Westin's memo about ABC's findings is already coming under fire in certain quarters. According to the memo, when ABC first heard of questions about Mr. Debat's credentials in May, they stopped working with him pending a review of his work.
"We also asked Chris Isham, as head of our investigative unit at the time, to look into the substance of what Mr. Debat had reported for us," wrote Mr. Westin. "He did so, and reported no discrepancies."
But according to a source familiar with the internal procedures of ABC's investigative unit, Mr. Isham was only asked to look into Mr. Debat's biographical credentials. Contrary to Mr. Westin's assertions, he never conducted any serious review of Mr. Debat's past work for ABC.
The upshot: A thorough substantive review of Mr. Debat's work was done only after questions had been raised about Mr. Debat's reporting elsewhere in the media.
Speaking to NYTV, several sources in the television news business also questioned why ABC hadn't brought in an independent third party to conduct their final more exhaustive review of Mr. Debat's work.
Kerry Smith, ABC's senior vice president for editorial quality, who headed up the inquiry, described the process as "particularly sensitive" because it involved re-reporting on confidential sources, belonging not just to Mr. Debat but to other, current ABC reporters—reflecting the collective nature of investigative work.
At one point, Ms. Smith sent a three-person team, which included an Urdu speaker and producer Rhonda Schwartz, to Pakistan to determine whether Mr. Debat went to the hotels he said he did, and to confirm that he met with the people he said he met with.
As for the disagreement over what exactly Mr. Isham did in the first part of the investigation, Ms. Smith said that while Mr. Isham was not asked to perform an exhaustive review of Mr. Debat's work, he was asked to make sure that Mr. Debat had never been the single source on any stories. "I asked Chris Isham, as the head of the investigative team, to check on his contributions," said Ms. Smith. "We had two conversations about it and, in each case, he said that we were okay … that Debat was never a single source on anything we went with."
Ms. Smith said that ABC will be "tightening up" their internal process regarding the use of consultants going forward. Historically, all ABC employees have been subjected to extensive criminal and pre-employment background checks. Henceforth, those checks will also be extended to on-air consultants.
As for Mr. Debat, he has little interest in subjecting himself to any more background checks. When reached by NYTV, he said that he was the verge of moving to the Middle East soon. Where? "I don't know yet," said Mr. Debat. What will he do for employment? "I can't tell you," he said.
Mr. Debat also declined to discuss the questions previously raised about his work, his employment and his legal fees.
"There's nothing to add," said Mr. Debat. "Absolutely nothing to add."